Album Review
A Homecoming Collection from California Honeydrops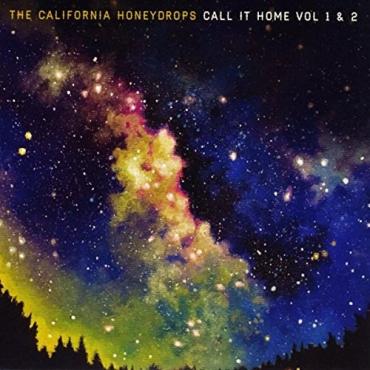 They might as well call themselves the Big Easy Laidbacks. They market themselves as a Bay Area band, but over the course of seven albums, the California Honeydrops have crafted an easy listening sound that marries the bounce and strut of the Big Easy with the soul of Memphis and Muscle Shoals.
The quintet honed their sound busking in the steets of the Bay area, but their unique sound got them slots touring with Dr. John and Allen Toussaint as well as blues icon B.B. King. The group spent most of the past year opening for Bonnie Raitt, who guests on the title cut, adding a backing vocal to the band's smooth three part harmony. The title cut sounds like a rowdy street parade second-lining back from a jazz funeral after they've laid the body down and are celebrating with high-steppin' vigor.
Lead singer Lech Wierzynski's vocal style wanders from folkie to soul man to laid back bloozer, able to cover smooth jazz as well on the Ray Charles-toned "Coming Around." But Wierzynski doesn't emulate Charles' husky soulful croak, instead working in a higher register as more of crooner on the tune, which he composed and arranged as he did with all the songs on the record.
"Cry For Me" bounces from gospel soul to funk to doo-wop to blues like Stevie Wonder backed by Boots Randolph's yakety sax.
"Standing Still Blues" is stoned cowboy jazz, loping along leisurely at a pace that won't allow the cool beverage in your hand to slosh around while you're laid back in the saddle.
"Hold It Down" is pure hokum with a skiffle beat, a quest for a red hot mamma who'll heat you up in the wintertme and chill you out  in the summer with some cool, cool lovin'.
Wierzynski shows off his crooner's muscles on "Those Days," an ethereal summertime flashback with sinister undertow possibly inspired by Jody Reynolds' '58 rockabilly classic "Endless Sleep," his drowned girlfriend beckoning to him from the deep to come and join her in her endless sleep.
There's a lot of honey in this bucket, 16 cuts on two CDs. The second disc kicks off with "Only Home I've Ever Known," sounding like the '68 Philadelphia soul of the Intruders' crossover hit "Cowboys To Girls," a lush production sweetened by strings and Wierzynski's impeccable falsetto bumping up against the stratosphere.
"Tell Me ( I Wanna Know)" is another second-line outing worthy of a Mardi Gras Indian tribe supported by a high-steppin' brass band.
"Drop By Drop is deep-dish blooze, hand squoze from a man sufferin' from a bad case of his-woman-won't-call-him miseries.
"Good Good Lovin'" is a sweaty French Quarter bar brassy band funkathon fronted by a Trombone Shorty soundalike.
The Drops dip into reggae for "Things We Used To Do," dishing up mellow '60 sounds reminscent of the Heptones.
"Starr Child" glides along in the '70's Betty Wright "Clean Up Woman" mode, funkin' soul with a stiff backbone.
There's something for everybody here, a fun- filled, funky goodie basket for all occasions.