Album Review
Hungry March Madness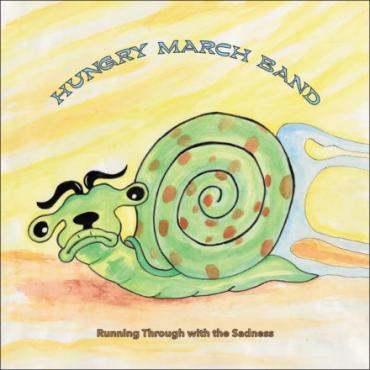 They're fun to watch and listen to, but you wouldn't wanna have to feed 'em. With from 18 to 24 mouths to feed on any given occasion, it's no wonder they call themselves the Hungry March Band.
With the off-the-cuff free range enthusiasm of Too Many Zoos fleshed out with more brass and percussion and more conventional arrangements, the New York City-based collective dabbles in most every form of music on the planet. Together since '97, the group's original compositions have lit briefly on Afrobeat, punk, funk, dub, Ska, free jazz, and meringue, to name a few tour stops along the band's journey to wherever it is they're headed in the moment.
Their fifth release is more astral projection, un-amplified bombast with a bigfoot beat buoyed by seven percussionists along with six saxes, four trumpets, three trombones, and two sousaphones. As usual, their output is a blender full of genres set on puree.
"Shimmy" feels like Sun-Ra infiltrating the Dirty Dozen on a psychedelic strut through a funky, brass-wrapped galaxy, the drums run through a Leslie at one point to intensify the rush.
Even when the band names the category they're about to attack, they can't stay straight. "Eclipso Calypso" is sashaying along Caribbeanly till the trumpet solo, which sounds more mariachi than calypso. The melody manages to stay more or less in the sunshine, but various soloists pull it into several degrees of shade during the parade, ending in a New Orleans funeral band dirge.
"Swirling Spaceman" slithers along galactically for a few bars before dropping into a dub lope. But once again the band can't stay straight, periodically breaking out into a big band gallop before the ganja kicks back in and they return to a more laid back mellowness.
First wave ska gets a punky, bouncy shout-out on "Whichawhicha," Jason Candler's bari and Jennifer Harder's trumpet leading the pogo parade for a pulse-pounding workout.
"Running Through the Sadness" hurtles along at warp speed, meth-fueled merengue kicked off by a Coletrane-on-acid impersonation by Tove Langhof, followed by John Waters diggin' up Diz for some stratospheric squeals before the rest of the band falls in and runs for the finish line.
It's hard to pin down, but a hell of lot of fun to rassle with if you don't mind collecting a few bruises along the way.