Album Review
Hymn For Her Take on the World With 'Pop-N-Downers'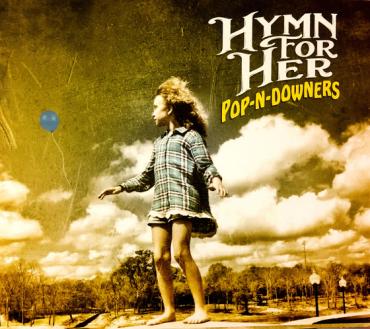 Hymn For Her's Lucy Tight and Wayne Waxing are the ideal modern day hippies. They've made a home out of a 16-foot airstream straight from the 1960s, using it as a sacred space to write, record, and raise their young daughter. They travel across the world like gypsies and, following in the footsteps of influential hippies throughout history, they're creating music inspired by the current state of the world on their new album, Pop-N-Downers.
The project is as diverse melodically as it is lyrically; blending folk and rock with roots and bluegrass influences with a hint of country, showcasing the wide spectrum Hymn For Her are capable of mastering. They use artistic expression to analyze the emptiness of life in the form of the classic rock-style "Human Condition." Waxing takes on commanding lead vocals over a waning melody infused with the blues, singing "You're born crying, you live complaining, and you die disappointed, that's the human condition, there's always something missing, there's always someone wishing for more" — and that's just in the first 30 seconds. They channel similar thoughts into "Blue Balloons," opening the album with observations on a series of world issues like corruption and climate change and showing how in touch the duo is with the world around them.
They continue to weave their socially conscious minds into the courageous "Shallow Graves," pondering heavy topics ranging from safety in schools to gendered bathrooms. But rather than cast judgment, the duo demonstrates concern for people across the world and wrap these tough topics around an inviting, light-hearted melody and the pure message that encourages us to not give up on one another.  
While the duo isn't afraid to respond to the troubling matters at hand, they do so in a way that warmly invites you to engage with their thoughts on an album that provides as many uplifting moments as it does topical ones. They demonstrate this on the exuberant "Fireflies," where a free-spirited melody allows Tight to share her desire to dive into the unknown, capturing the light of the world through the song's feel-good vibe. "First Clown on the Moon" accomplishes this same feeling, inspired by their daughter, Diver, whose first dream in life was to be a clown on the moon. Her parents took this wondrous idea and turned it into an equally vibrant song with a playful banjo and a whimsical interpretation of what it would be like to play nearly 239,000 miles away.
They round out the dynamic project with the endearing "It's Only a Paper Moon," a song that feels like a little present from the family to listeners in which Tight and Waning share a past recording of a then toddler-aged Diver singing the classic song made famous by Ella Fitzgerald and Nat King Cole, with the family of three sounding like they traveled back to the 1930s to make their magic.
Over the course of Pop-N-Downers, Hymn For Her prove they have the passion and artistic ability to take on the world's most sobering matters and powerfully use this dark matter as fuel to create peaceful music. Pop-N-Downers is as warm as it is authoritative, with the pair of engaging artists speaking as concerned citizens and transforming their observations into compelling art. They're using their convincing voices to contribute to impactful change, fully embracing what the power of music is capable of, and in the process, demonstrating why they're true artists.