Album Review
Ian Sherwood Shines In All Directions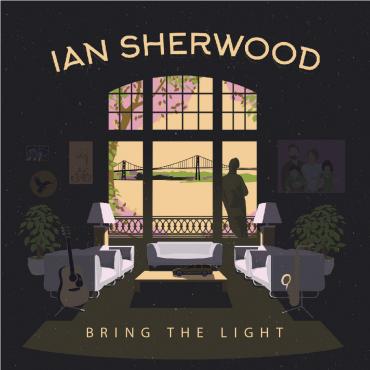 Is it just me or is 2018 shaping up to be a year bestowing a generous harvest of singer-songwriter releases? These are coming from many sources, my latest find is Canadian artist, Ian Sherwood, whose fifth studio album Bring The Light is released in the UK on May 11. After the first couple of listens it feels like a collection of rather catchy songs with some ambitious arrangements, but keep listening as the record opens up deeper layers of Sherwood's inventiveness.
Sherwood wrote all the songs and plays just about everything; guitars, sax, clarinet, flute, keys and percussion. But this is not a one man show, producer Daniel Ledwell made a big contribution pulling together many musical strands, and there are some very able musicians and singers as well. Sherwood himself is a producer both for other artists and the theatre. These eclectic skills won him a Canadian Folk Music Award in 2013.
So what's the appeal of Bring The Light? It defies categorisation and there is an ageless quality to Sherwood's songs. I feel as if I heard this way back in the early 1970s. A bit of Laurel Canyon perhaps, or is it because he's direct descendent of Canada's great musical lineage? Either way, Sherwood has made an intriguing album that rewards attentive listening.
The first track, 'Little Birds' is a gentle introduction to the record, as Sherwood flutters in with a sad tale of adversity, "little birds, with tiny wings still flying". Musically it soars to a crescendo led by his backing singers before dipping into silence. 'Dig That Hole' is completely different with vocals that growl along to a jazzy beat and arrangements with horns that flow into big production pop. 
Though a varied start the record doesn't really get going until the third track, one of the album's best, 'Firefly'. Sherwood starts with a laid back, folky vibe before building up into what sounds like an anthem. Loneliness is at the core, "I'm walking on a rope this tight, only light by firefly/I'm walking on a road tonight waiting for someone to take me home". Sherwood's whistle adds a sense of acceptance.
Sherwood brings a starker contrast in 'I See Red', another softly sung opening that builds up into an orchestral finale. This is a theatre producer at work and it is highly effective. And that seems to be his skill, the variety on the record is amazing. Next up is a soulful lament about departure, 'Leaving Alberta'. The horn score gives it a huge sound, again punctuated by lyrical interludes.
In the swirl of 'We're Only Human' Sherwood creates a ghostly, ethereal sound. By now the simpler songs act almost as an "amuse bouche" on this menu of richness. A good example is 'Don't Want To Leave', despite its sad lyric of trying to hang on despite, "you show me the door, I don't want to leave". 'Long Kiss Goodbye' is a similar refreshment.
Were this an "LP" we'd talk of the "second side". Here that side does slow down a touch as the anthems subside into songs of more moderate pace, though still full of clever introspection. 'I'm Not The Boy' is one such song and because it seems to pull together much of the big sound and ballads is my favourite. A close second is 'Know the Darkness', again its slower pace gives Sherwood room for his poetic imagination, "don't waste your wishes and nickels on broken down wells… if you don't know the darkness you can't understand the light".
'Hits Me Right' has a bluesy urgency that keeps Sherwood moving and the album closes as it began, quietly, with 'Come Back to Me". This is a plea, almost a whisper, that if anything, gives his words greater resonance, "you can do it all, you can have it all, if you come back to me'.
Bring The Light is a record of huge variety. At times Sherwood almost takes the listener too far and risks turning the whole exercise into some kind of musical. Perhaps that's his theatrical side, but above all he is a highly accomplished musician and songwiter. That's the lasting impression of this release.