Album Review
Chemistry and Alchemy on the Open Road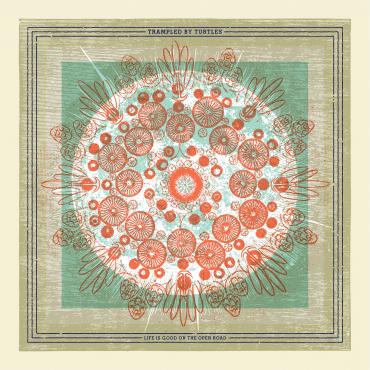 After four arguably long years, Minnesota six piece Trampled By Turtles has released Life Is Good on the Open Road. David Simonett and the boys picked up and ran hard right where they left off. The songs are equal parts infectious and poignant, as are many Simonett-penned offerings. The man has a way with words both poetic and piercing, the band a well-oiled machine of metal, wood, and voice. Regardless of your usual musical tastes, TBT has a way of applying themselves to your meld. The punks want to claim them, as do the folkies; the Americana purists stake a claim but so do the collared-shirt frat boys, and that is grandma's quilt-type appreciation.
The band's music runs through many veins, or at least strikes nerves. I believe that's due to the implementation of typically bluegrass instrumentation in a progressive rock fashion that can still kick the grits out of any traditional heavy hitters in a way that Bill Monroe might even crack a smile at from the great beyond. This is evident right away in the fiddle and banjo work of record opener "Kelly's Bar," which more or less kicks the listener in the gusto as a palate cleanser for what's coming. Pick your poison, fast or slow.
Cutting melodies with stabbing lyrics are abundant. "Thank You, John Steinbeck" is gutting yet beautifully simplistic, while "I Went to Hollywood" keeps things loose and a bit humorous in Simonett's self-deprecating yet Twain-ish way. "Blood in the Water" and album closer "I Learn the Hard Way" are gems too; the latter capturing, the former damn right getting after it with devil-horns up. If you had a bad day, crank up "Good Land" for an instrumental nugget of pleasure.
Life Is Good on the Open Road is a band, after needed rest, falling back in love with what started the whole thing in the first place. Six dudes who want to crack some beers, pick some strings, catch up on all the bullshit, and then promptly track a record. That's the edifice here. Bring some skeleton songs and cold beers to a cabin on the woods, crack open the cases (both musical and libation), flesh them out and test the magic. If the chemistry is there the alchemy will follow.