Album Review
Ilya Portnov--- Reviving the Fifties and Sixties, Harmonica-Style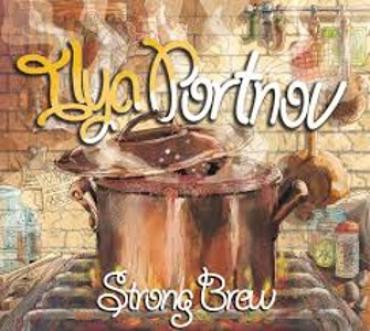 When I was a kid, if you couldn't plug it in I didn't want to hear it. Unfortunately, or so I thought at the time, not everything was plugged in. Radio, even rock 'n' roll radio, played anything and everything, your choices being to listen or turn the dial. In any set (meaning songs played within a certain stretch of time, mainly commercial to commercial or news to news) you could hear anything from Elvis to Lawrence Welk to Steve Lawrence & Eydie Gorme to Ernie Fields (he did a kickin' rock version of The Glenn Miller Band's "In the Mood") to Arthur Fiedler and beyond. If you think college radio used to be fun, imagine hearing Leroy Anderson's "The Typewriter" which centered on the clacking sound of, uh, the typewriter, Bobby Darin's "Splish Splash", Marty Robbins' "A White Sport Coat and a Pink Carnation", Sheb Wooley's "The Purple People Eater", and The Fontane Sisters' "Eddie My Love" one after the other. Not that that happened, but if those singles were all released at the same time, it could have.
There could also have been a number of what I would have considered, back then, lame instrumentals played on zither, hand saws, harmonicas and other off-the-beaten-path instruments. Songs I listened to because I had to to get to the next Johnny Burnette or Ernie Fields track. Basically, filler. Boy, did I have a lot to learn.
I received an album just the other day full of filler: Ilya Portnov's Strong Brew. Filler. Boy was I an idiot. I am hearing music which could have been recorded back in the fifties and early sixties and am swept away by not just the music but the memories. Of one of my sisters' favorite bands, The Harmonicats. Of Larry Adler, who was a master harmonicist (is that a word?) and who even played classical music on the instrument.
Of my Uncle Lee who came to the house one summer with a suitcase full of harmonicas of various and sundry description, one practically as big a keytar and one so small he had to put it in his mouth and push it around with his tongue to get it to play. Momma had to get out her biggest glass and fill it with water for Uncle Lee dipped those harmonicas in water between songs as he switched from one to another. That might have been the visit that Uncle Lee and I bonded over music for he and I had the same musical soul.
Ilya Portnov has that same soul and I wish Uncle Lee could be around to listen to him because he would no doubt love what Portnov does. Portnov, for one thing, assembled a first class band for this project: Kid Andersen (guitar, bass), Chris Burns (Keyboards), and June Core (drums). They can play anything, it seems like. For another, he switches styles at will, jumping from swing jazz to surf rock (let's call it jazz blanket bingo) to ragtime to blues with the blink of an eye. He rocks and he rolls but what he does best is wrapped up in the thirties through the sixties instrumentals I used to hear on the radio. Simple fare but done so well it screams period music. And it screams excellence.
But mostly it screams what the hell was wrong with me when I was young. Plug it in, don't plug it in, what the hell was the difference? We don't hear music like this hardly at all anymore and we should. Ach, but that's okay. Portnov and crew is giving us a second chance. Let us not be that stupid kid who tossed aside such music without a thought. Let us be true listeners of the good--- and trust me, this is, at the very least, good. And it gets better with each listen. Start here: