Album Review
I'm With Her Delivers Stunning Debut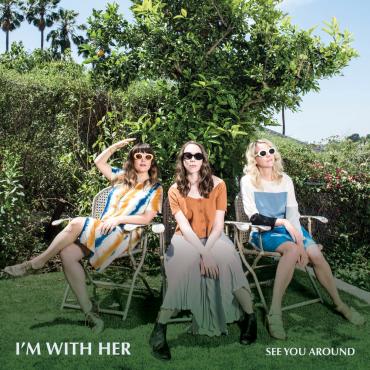 It may feel like we've known about supergroup I'm With Her for some years now because of their spontaneous performances at music festivals like Newport Folk and Telluride Bluegrass, and then, last year, an EP release and short tour with Punch Brothers. Not to mention, all three members are accomplished, well-respected artists whose work is already so familiar to us. But See You Around is the official debut album from Sara Watkins, Sarah Jarosz, and Aoife O'Donovan, and whether it should or not, it feels like a long time coming.
The three artists co-wrote the songs (save for one Gillian Welch tune) and harmonize, sharing instrumental duties and taking turns on the occasional solo verse. A fully collaborative effort from start to finish, See You Around never sounds like a solo record from any of the women, and instead feels like the product of a new band. We get each of their sensibilities combined into something rich and rootsy. It comes as no surprise that they would already have admired each other's work and felt it a natural fit to create something together.
On album opener, we get the gorgeous folk-pop title track with Jarosz leading on vocals. The harmonies are subtle and stunning when Watkins and O'Donovan creep in, ultimately creating one crystalline voice. It's one of the record's standout moments for the way it shows their ability to complement each other without overpowering. There's nuance and control that can only come from the three of them standing next to each other in the same room (the album was recorded live). "Game to Lose" features Watkins' bewitching fiddle playing as they harmonize gently and softly before O'Donovan comes out swinging. And on "Overland" we're treated to Watkins' soulful powerhouse voice taking the lead. On See You Around, it's a little bit of everything around every corner and each song unwraps like a little gift we didn't know we needed.
While Watkins, Jarosz, and O'Donovan are all, in a general sense, folk singers, their individual aesthetics are quite different and their voices distinct. The result of their recording captures that same excitement and good fortune we feel when we've had the opportunity to hear them play together live. There's a sense of anticipation at the start of each song as we wonder which heavenly voice we'll hear first.