Album Review
Infamous Stringdusters At Their Best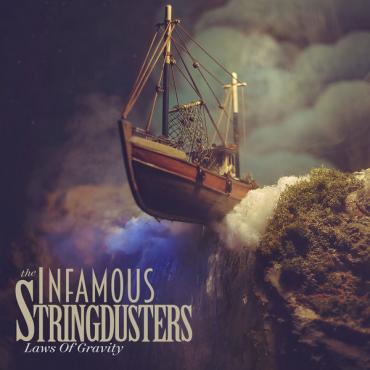 There's just something about bluegrass music that brings people together. It's warm and inviting, and often invites dancing and celebration. There's an inherent joy in bluegrass, even when it takes on a more melancholic tone. Maybe it's the swooning fiddle or the familiarity of it. And the five-piece Infamous Stringdusters do it so, so well. Their new record Laws of Gravity presents pitch-perfect, polished bluegrass, with the tightest harmonies and instrumentals you can imagine. Laws of Gravity is a solid, cohesive outing for the Virginia-based band who's last record was a collaboration project with an impressive roster of female artists.
                Laws of Gravity is more than just a great bluegrass album. It's also a solid country record, with comfy, lived-in vocals and guitar-playing. With songs about the importance of coming together, appreciating our homes and the things that ground us, and freedom, it also feels like a particularly important record during this pivotal time in our nation's history. And truly, what is more cathartic for humans than music? Laws of Gravity offers its best bluegrass with "Freedom", a gorgeous spitfire of a tune about living in the moment and breaking free of the things that keep us down. The harmonies, fiddle and banjo play off each other so seamlessly and beautifully, the song practically soars.
                "Back Home" is a slowed down country stunner about the pains of being homesick and heartsick. "This Ol' Building" is a song of resilience and strength when you're up against everything, and when the chorus builds in a series of rounds to a dramatic, a capella conclusion, the message is delivered, powerful and potent.
Laws of Gravity listens like a complete album with a strong voice and signature. The Infamous Stringdusters are a united front, creating their most glowing melodies yet.