Album Review
Ingenuity & Confidence Threads a Tight Stitch in 6-Song Independent Country Showcase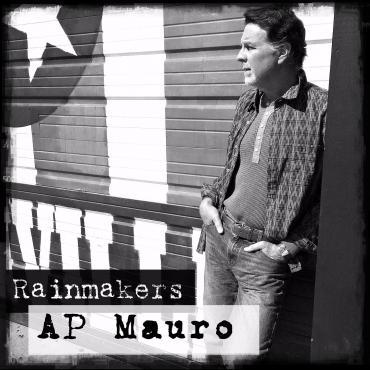 You can actually hear the maturity in this artist from his previous EP Honest Wear -- (which was good). From the opening strains of "You're a Rainmaker," and its attractive pounding piano, chiming guitars, steady drums and layered acoustics -- this is quite the polished set.
AP Mauro's voice sounds even more confident now, and on this track it has an infectious appeal. The piano is a nice touch and adds to supporting the melody while the flowing drum fills are tight and accurate. If Mauro wanted to get some attention this time out, he may well have succeeded. This is a credible, well presented song. Even with its cynical political commentary – yes, AP's hitting harder this time out.
AP Mauro has made a respectable dent with his previous albums on Americana/Roots/Country charts and with this new addition he will be focused on by programmers even more clearly. Or should be. Already, this new effort is a hit on iTunes new country releases and in Alternate Roots Magazine where it scored in the top ten. Maybe AP should start thinking about a full album in the next year or two. 
"Rainmakers" is AP Mauro's newest addition – a six song EP that surprised me. Not because I didn't think AP Mauro could do it – but, he did it so well on several fronts. It's like getting your shoes polished to a glassy black gleam and then purposely scratching them just a little to show everyone that they've been worn. None of the songs here are so sweet you will get cavities listening to them. Each flickers with a story and they each hold their own.
"She Dances with My Heart," shows discipline even in AP's songwriting. This one unfolds a clever little storyline. Typical country style with the added gusto of ingenuity. It has muscle like many of the great 60's country songs that were ingenious. Mauro isn't Jerry Lee Lewis but he certainly would get Jerry's ears and eyebrows raised if Jerry heard this country-rocker. The lyrics are well-thought out and sung. The guitars have a nice country-rock edge that cut and again I'm proud to say AP Mauro's vocals are assured, confident and there's no artificiality to it. AP's a sincere country singer and none of these songs have commercial glare – but it does have commercial appeal.
AP may have touched upon a good style by not sounding too formulaic yet maintaining a simple, workable, song showcase. AP rests back comfortably on his higher register with a fleecy, clear and captivating guitar in "These Chains." 
With this approach AP mixes ingredients akin to Lyle Lovett territory. It's familiar but, he pulls it off with the same genuine vocals he used in his great song from Honest Wear – "Imagine That."
That song sent a clear signal that AP Mauro had potential and I felt he would really unravel some of that potential on a subsequent release. Well apparently here, he has. Is it a perfect set? No. Not many artists produce perfection, but there's enough here to satisfy anyone's hunger for some good independent country music. 
"These Chains," is a ballad that has that power that veteran country singers build careers on: Merle Haggard, Waylon Jennings, Willie Nelson, even Jim Reeves (whose powerful silky baritone would have done wonders for this AP Mauro song). This is a nice casual, melancholy melody built on solid notes. My only suggestion would be to not be too repetitive with the word "chains" throughout the song. Repetition in the right places is a hook, repetition too much and its laborious. It will eventually retard repeated listening. Less is more.
But, overall, the message, the lyric and the way its woven into the structure is quite a prodigious step. It's like a child having a growth spurt. One minute he's four feet tall and then six feet tall. This is how wide a margin AP Mauro's material has grown.
So far every track has its rewards (sounds like a new song). Nevertheless, "Lonesome Highways," – original as it is and it is – reminds me a little of the more serious Roger Miller. It has a great driving beat, good guitars and AP Mauro has sweetened his tunes with a compulsive drive that his earlier tunes lacked or just suggested. His vocal styling is also improved and very noticeable on this song. The piano is shallow but you know it's there and it sounds stirring. It helps AP – there's a nice marriage of sound. AP has not repeated himself once in this album melodically that I noticed – every song stands alone and has merit. The tracks are also paced well on the album.
With his more assured vocal AP sings "Two by Two," and it's probably the simplest of all lyrics on this collection. But this is the kind of song that attracts radio programmers. Despite its simplicity, the musicians all support with a real cool under pinning of rhythm and melody. Again, AP exemplifies authenticity and sincerity in his performances.
The final track on this six song EP is "Urban Outlaw." AP sings this with more teeth. More in the style of a Buddy Miller, Townes Van Zandt and Jon Dee Graham. AP doesn't have that growl and vinegar in his voice like Miller and Graham but he does float along the same boundaries as Townes. In order to get to that level, however, AP has to push the envelope in his lyrics and maybe not always tell such a bright, optimistic story in his tunes. Maybe he should hit the history books and find some "legends" that have been sadly over looked. There are untapped characters for a good powerful storytelling ballad. A suggestion? How about that tough bombastic flying ace (upstaged by Amelia Earhart) named Pancho Barnes. She was a woman, tough as nails feminist character with a colorful career before ladies actually shaped that kind of 20th Century woman. She would definitely be country-folk material. If written correctly, could even become a country classic. I'll bet there are tons of women out there who never heard of this female folk hero. 
While there was no "Imagine That," on this collection -- the album is still a cohesive set.  I believe AP has found a comfortable niche. He still needs to sharpen his reality side. One or two songs about a subject that has some vinegar in it would be good for him. He has the voice. He needs a song like "High Water," or "Mississippi," that Bob Dylan did. He should try to capture that magic Townes Van Zandt had consistently when he wrote songs like "Where I Lead Me."  If AP wants to stay in a simpler mode, then he should trek down Roger Miller's serious side as suggested earlier in songs like Miller's "River in the Rain." But I have to say, AP Mauro has reached a level where there is little to improve on, except to refine. He just needs to ask himself what he wants to be known for and remain focused on that aspect. There is a big difference between Willie Nelson and Lyle Lovett. A big difference between Jim Reeves and Johnny Cash. Etc...
Country syrup? No, AP doesn't exhibit that. Country grit? He has a little. Country outlaw? He hasn't displayed that tendency. Country drama? He touches upon it. Country balladry? Country corn-pone? Nah. He needs to find an identity -- the kind of interpreter he wishes to be acknowledged as and stick firm to that menu. The beginning of a style is definitely developing; I can hear it. But, I am not sure if this is where a man like AP Mauro wants to remain. I suspect the next releases will continue to bend and shape where AP wants to secure his place in this genre. 
What is AP's territory – in my opinion -- is a singer who will provide songs of raw emotion, eclectic at times with some piss and vinegar in a song or two with a grin and a wink. With each new release I believe AP will become quite the troubadour, balladeer and he should include at least one traditional song or cover a tune by another artist that he admires. Doesn't have to be a famous tune. An obscure one. But it must be consistent with the flow of his originals. Just to give a listener a peek at how well he could interpret material from another source. I so admired singers who tackled Bobbie Gentry's "Mississippi Delta," because that's a lost classic. Even a song like Bobbie's cover of Doug Kershaw's "Louisiana Man," would be a good example of tight storytelling with gripping instrumentation. Bobbie was a singer-songwriter but, she covered Kershaw brilliantly. Now, AP doesn't have to get too country in this vein, but it's just a suggestion -- let some songs pull on an ear real hard. With a little faith in Mauro from his record company, producers, musicians and bookers -- he could have a smooth road ahead. 
In an attempt to meet that journey, AP may need to employ on his next collection a little more piano, definitely harmonica, a little mandolin and fiddle. Just to keep the tasteful morsels of his melodies interesting and diversified. If the money doesn't run out, one or two tracks with a female under the surface vocal. AP Mauro has a voice that doesn't need lots of support but, if it has that musical frame around it – each song would stand out effectively even more -- and prominently. If he gets a reputation as a songwriter to watch – he's going to find some of his tunes covered by established artists. As for his masterpiece, I still think "Imagine That," is a hard one to beat at this time. That was one great song and I still play it privately. This new album does prove that AP Mauro's musical career is not done by a long shot. He is starting to break the shell of a hard egg. He already has an impressive songbook and nothing but good things can be expected from an artist like this. 
The collection was produced by Dave Moody and AP Mauro and recorded in Nashville. 
Criticism? AP needs to get more professional photos uploaded and get a press kit -- I found that scarce and wished to provide additional pictures that were not associated with images already on albums. A small request that would help writers and music blogs supplied with the latest information. Pose for only one official portrait with each release, and then everything else should be candid, natural and relaxed. Nothing posed like a professor with his elbow on a set of books holding a pipe. AP is too good for that identification. 
Website: http://www.apmauro.com/
FaceBook:  https://www.facebook.com/people/AP-Mauro/100008177984718
Disclaimer: The opinions expressed in this review / commentary are those of the author and do not necessarily reflect the official position of No Depression. All photography is owned by the respective photographers and is their copyrighted image; credited where photographer's name was known & being used here solely as reference and will be removed on request. YouTube images are standard YouTube license.
John Apice / No Depression / May 2016