Album Review
Innovative and Old @ the same time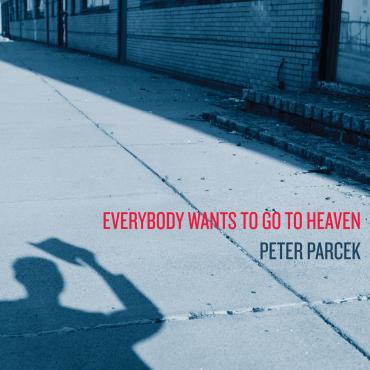 Peter Parcek 
Everybody Wants to Go to Heaven
Lightnin' Records
    One of Boston's hidden secrets, Peter Parcek, has enlisted the assistance of a number of top shelf talent for this CD, as well as traveled to various musical heavens to make this disc such a special project that it literally leaps out of the packaging for you.  First off his playing here is just the best that he has put on record yet, whether it is because of his musical growth, or the musical stalwarts he and Producer Marco Giovino (drums and percussion) have enlisted for this project; among them Luther Dickinson (guitars), The McCrary Sisters (vocals), Mickey Raphael (harmonica), and the legendary Keyboardist Spooner Oldham, who was visited and recorded at the Legendary Muscle Shoals Studio in Alabama.  This is the disc his previous recordings have hinted at and his live performances have strongly referred to.  
    For this disc there are 10 songs 4 covers of well known blues songs and 6 songs Mr. Parcek wrote.  The disc leads off with Peter Green's "World Keep On Turning," which sets the disc off with power packed riffs reminiscent of Jimi Hendrix.  But this is a tribute to such a big force it also allows Peter to step out and display some of the shades and moody differences that he carries in him that set him apart.  There is also on here the familiar Blind Lemon Jefferson classic "See That My Grave Is Kept Clean," the Don Nix classic that gives the disc its name, "Everybody Wants To Go To Heaven,' and the closing number which totally rearranges Jennie Mae Clayton's "Aunt Caroline Dyer Blues." Then we have the 6 songs that Peter Parcek wrote 3 of which are instrumentals which allow him to display his instrumental prowess.  Peter made his reputation as a Blues guitarist and that is where he shines, if you have any doubt listen to his songs.  He shows a deep understanding of the whole scope of blues from touches of jazz to deep Chicago Blues to strains of Gypsy Blues.  
Here he is doing the title cut about 9 month before the disc.
https://www.youtube.com/watch?v=5bhVg0KHFdY
    Peter Parcek is a tremendously talented blues guitarist and his music spans the scope of the Blues idiom and he even brings in some new innovative ideas and touches.  Someone you want to keep on your radar, and this is a fine example of the talent this man has.  
by bob gottlieb