Album Review
Irene Hartfield – Play Me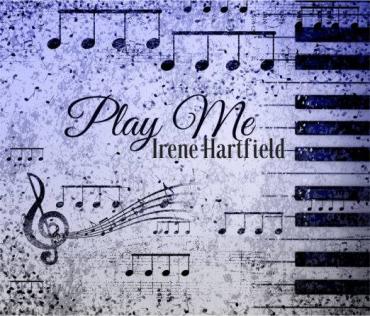 Ely, Minnesota's very own blues jazz singer and musician Irene Hartfield has released a brand new CD of classic rock cover songs. These are songs that Irene has enjoyed performing over her years as a musician and certainly sound like they mean something deep to her. As her voice implores and resonates a strength that is bound tightly to each number on her cover CD called, Play Me.
Play Me was released this past February at a Valentines concert in Ely, Minnesota. Irene Hartfield had released a previous album of original songs dedicated to her passion for the blues called, More About The Blue Period.
Irene Hartfield had worked as a musician in New York during the 70's and 80's all in the mix of New York clubs squeeze of music driven efflorescence.   Known as The Irene Hartfield Trio, you could hear her performing at famous bars and clubs along the Manhattan scene. Places such as the Red Onion, Buddy Rich's Club, Jimmy Weston's, and the Grand Finale to name just a few. The group was also noted for their performances at Caesars Palace in Vegas, Sneaky Pete's in Hollywood, Florida, and The Summit Club in Caracas, Venezuela.
For over three years Irene Hartfield also performed on the Holland Cruise ships sailing and performing throughout the Caribbean, Jamaica, and along the curves of the beautiful country, Brazil. Irene also worked in the recording industry, both playing and singing along with notable musicians like; Will Lee, Steve Gadd, Arnie Wise, Jay Leonhardt, and many others. Without a doubt Irene's professional and diverse style along with her powerhouse vocals was and still is instrumentally known and pleasing everywhere she performs.
Now, Irene Hartfield has taken some of her favorites she has performed over the years while on tour and created a unique mixture that sounds like as you listen to her, that she is right in the room setting the mood. Each song on this album, Play Me, sets a tone, a mood that is hers. Covering great hits by George and Ira Gershwin "Embraceable You" she captures the core essence of this beloved tune.
Cory Chisel and Dan Wilson's single, "Never Meant to Love You" Irene Hartfield has taken and hauntingly recreated it as her own distinctive languishing sound. Brilliantly delivered is her track by the famous Cole Porter "Night and Day" then rounding out this dedication to music is Irene's cover of Pete Townsend's "Getting in Tune," once again her keyboards fly and the vocal strength permeates throughout this number.
Music is her work and evidently her passion as you can sense it each time she breathes a note.
The album Play Me is an embraceable dynamic body of work. Covered only the way Irene Hartfield's level of professionalism and passionate sound could create. With her controlled and expressive voice she paints a canvas of musical notes that leave the listener longing for more. Take a magical and enchanting trip as you place Play Me on your music listening dial and sail away along her gentle and soothing notes.
FACEBOOK: https://www.facebook.com/IreneHartfieldMusician
URL: http://irenehartfield.com/play-me/
Cyrus Rhodes