Album Review
Irish Soul: Paul Brady at Vicar Street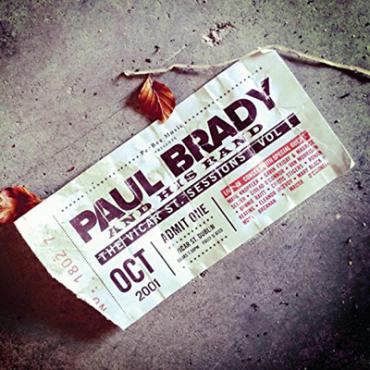 "I am a thoroughly mixed bag," Paul Brady writes in the liner notes for the Vicar Street Sessions, Vol 1. That's quite an understatement. Calling the Irish singer and guitarist a folkie is much too limiting. In the 1970s, Brady's music was traditional, but by 1981's Hard Station, he was being hailed as the progenitor of Irish rock. Since then, he's gone back and forth, commingling the two and collaborating with a slew of artists from a variety of genres.
Volume one of the Vicar Street Projects is an ambitious undertaking -- Brady recruited world-class entertainers to join him in Dublin in 2001 for a series of 23 live recorded concerts, in one of Ireland's best music rooms.
The big boys and girls showed up and played. Artists including Bonnie Raitt, Mark Knopfler, Van Morrison, Sinead O'Connor, and Maura O'Connell performed their songs as well as Brady's, one guest per show, for the run.
Brady stands toe-to-toe with Van for Morrison's "Irish Heartbeat," first released in '88 on the album of the same name, and redone with Mark Knopfler earlier this year on Morrison's Duets: Re-working the Catalogue. But Knopfler's nowhere in sight or sound for this one. We get only the two Irishmen, with their glorious harmony on this churchy R&B hymn.
Knopfler does show up for a duet with Brady for "Baloney Again," for a very un-Dire-Straits tune with chilling lyrics about the plight of black musicians touring the South in the '50s:
We don't sleep in no white hotel bed
We're sleeping in the car
Baloney again
You don't strut around in these country towns
Look on ahead, don't stare around
You best stay where you are
You're a long way from home, boy
Don't push your luck too far
Bonnie Raitt joins Brady on "Not the Only One," the song Brady wrote for her for her '91 release, Luck of the Draw. (He also penned that disc's title cut.) Brady matches Raitt's soulful wails as they celebrate a couple of lost souls who find solace in one another.
Sinead O'Connor turns in a heartbreakingly beautiful a capella duet with Brady on "In This Heart," from 1994's Universal Mother. Released two years after she tore up a picture of the Pope on Saturday Night Live, that album revived her career. It is considered some of her best work, as she demonstrates here. 
Brady closes out the session on Dylan's "Forever Young," with a lilting, Irish-flavored choir taking the folks to church with Mary Black, Maura O'Connell, and Moya Brennan.
For those just discovering Paul Brady, Hard Station might be the best entry point. But for a glimpse into one of Ireland's greatest voices and most creative musical minds, Vicar Street ain't a bad place to jump in.