Album Review
Isaac Hayes' Memphis Spirit Box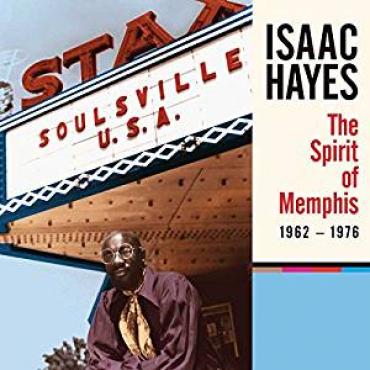 A lot of people think of him a that sexy bald guy with the chains draped over his bare torso and a voice as mellifluous as Barry White. A later generation remembers his voice from his over the top portrayal of Chef on South Park. But before he was all that, Isaac Hayes was an organist and songwriter.
Hayes grew up hard in Memphis, sleeping in cars and in friend's yards, even picking cotton to support himself, his family too poor to keep all the children together. While still in high school, the rough, one-handed organ skills Hayes had picked up in church got him a job in Floyd Newman's band. Saxophonist Newman, who would later become a founding member of the Memphis Horns, discovered that Hayes had perfect pitch, and after a few weeks of practice, Hayes developed his left-handed keyboard technique as well.
Hayes had been hanging around Stax records studios for months, hoping for an opportunity to work on sessions. Hayes' first Stax session credits were as an organist on Newman's instrumentals "Sassy" and "Frog Stomp." Booker T. Jones was the house organist at Stax, but he had gone off to college and Hayes was hired as his replacement, playing on sessions with Otis Redding, Sam and Dave, William Bell, Johnnie Taylor, and Carla Thomas.
Concord Records' Craft division has compiled a 4 CD box set of Hayes' Stax recordings from '62- '76, along with a 45 RPM record with "C.C. Rider" b/w "Laura, We're On Our Last Go-Round" bound in a 60-page hardcover book.
The first disc, from '64–'72, shows Hayes' growth as an arranger, then as a songwriter. He was used as a last resort at first. When the session guys couldn't come up with a head arrangement, they'd turn to Hayes for inspiration, Robert Gordon reveals in the liner notes. Hayes' first credit under his real name is on Booker T and the MGs' 1965 hit "Boot-leg," with Hayes on organ as well as getting a composer credit. He had befriended David Porter, and the two hooked up as songwriting team. But MGs guitarist and Stax arranger Steve Cropper co-wrote with him as well on the bubblegum '65 tune by the Astors, "Candy."
  Hayes and Porter quickly got on the hard stuff, first with Johnnie Taylor's '66 anguished, Bobby Blue Bland-inspired nightmare "I Had A Dream," then busting out into the big time with Sam and Dave's exuberant '66 soul celebration of "Hold On I'm Coming." The disc chronicles subsequent Hayes/Porter Sam and Dave triumphs including "Soul Man" and "I Thank You," as well as Carla Thomas' itchy bass underlined, juicy organ squirting out the sides smash "B-A-B-Y."
Hayes is presented on his own in Disc 2, off to a rather bland start with Sir Issac and the Doo Dads' "The Big Dipper," a pretty sappy instrumental you can envision go-go booted cuties hopping up and down in cages to till the the horns cut in, slicing that sap to shreds, letting you know you're dealing with the guy who will in the future give Shaft his badass backing.
By the time he gets to getting around to cutting "By the Time I Get To Phoenix" in '69, he's already sounding like a full-blown love god, spending three and a half minutes on a buttery smooth spoken intro that has all the female listeners melted to mush by the by the time he starts crooning. 1970's "I Stand Accused" scoops up any stray females and mushes them up as well with his bedroom baritone.
"Theme From Shaft" came along the next year, leather and chains and badass soul. Hayes and Porter gave the Sam and Dave soul man duo thing a shot with a wah-wah pedaled soul sermonette on "Ain't That Lovin' You," and a deep-dish soul remake of Bread's "Baby I'm A Want You" that makes you want to shatter Bread's soft rock original with a sledgehammer.
Disc 3 comes from a dark time at Stax. In 1967, their biggest star Otis Redding had just been killed and they found out they had lost their entire back catalog due to a sneaky clause Atlantic records president Jerry Wexler had inserted in a contract when Atlantic was the main Stax distributor. But rather than fold, Stax president Al Bell decided on a full frontal aural attack, releasing 30 albums and singles simultaneously in 1969. Hayes got to do Hot Buttered Soul the way he wanted, with total artistic control. Due to that control, there were only four cuts on the album with a version of "By The Time I Get to Phoenix" clocking in at 18 minutes and a cover of the Burt Bacharach/Hal David Dionne Warwick hit "Walk On By" that took up 12 minutes more.
Disc 3 has three Bacharach tunes crooned by Hayes: "Walk On By," Hayes serenading you with lush strings and spaghetti western guitar for five minutes before he starts to croon, along with plush takes on "I Just Don't Know What To Do With Myself" and "Windows of the World."
The last part of the disc is live from a '72 Chicago show, opening with a velvety rendition of "Ten Commandments of Love" then getting low-down and dirty with a bloozy version of "Rock Me Baby" that manages to sound elegant and nasty simultaneously. Closing with "His Eye Is On The Sparrow," he introduces it as a song that black people used to sing because it was "the only way they could communicate with the Almighty, that was the only thing they could do that was not forbidden." Its glorious and heartbreaking, Hayes pouring out his soul, having church with his disciples.
Disc 4 is extended jams from selected Hayes releases from '73-'76, ending with "Do Your Thing," a 33-minute cut re-released in 2016 in its entirety as Now-Again.
Hayes embodied the spirit of Memphis as well as a considerable portion of its soul. Nice to have a large body of his work readily accessible once again.