Album Review
Jack Mack Soul Shack Heart Attack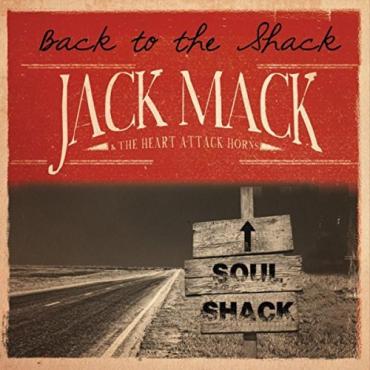 Jack Mack's music is a kick in the guts, like John Hiaat channeling Bobby Blue Bland punched up by Southside Johnny and the Asbury Jukes with the Tower of Power horn section sittin' in. There is no Jack Mack in the flesh, never has been. Max Carl (Gronenthal) started the band in '82, leaving in '85 to play keys and sing lead for .38 Special, and currently sings co-lead for Grand Funk Railroad.
Mark Campbell is the current Jack Mack lead vocalist, and his resume includes an interesting movie star turn behind the scenes as the actual vocalist for Michael J. Fox's character Marty Fly in Back To the Future singing Chuck Berry's "Johnny B Goode." Campbell says part of his movie deal was "you can't ever tell anybody you're it, there's no screen credit." But apparently the statute of limitations has run out, and Campbell has put out a YouTube video discussing the incident. He says Fox is "somewhat of a musician" (who actually played guitar on the song), but Campbell's vocal was tweaked: "a bit softer, a little higher, youthin' it up." Although he didn't get credit, Campbell's cut was included on the '85 soundtrack that sold 1.5 million copies thanks to the inclusion of two Huey Lewis songs, "Back To The Future" and "Power of Love,"giving Campbell residual checks to this day.
But Campbell is no one hit wonder. The Jack Mack material is powerful stuff. "Standin' Before the King" is an ode to era of 45 RPM records and a nameless blues king appearing at the Delta Lounge on the bad side of town who plays electrifying licks and sings about a love gone wrong. Jack Macker Andrew Kastner stands in for the king, blasting out hi voltage guitar licks backed by the cardiac arresting power of the horn section; Les Lovitt's trumpet, Lee Thornburg's 'bone and Bill Bergman's saxes. Melanie Taylor offers up celestial soul shrieks around Campbell's muscular, soulful vocal.
"Don't Let Her Go" sounds like '60's era Beach Music popular on the North and South Carolina coasts that was based on '40s and '50s r&b, smooth soul with a sprinkling of gospel whoops on top to sweeten it.
"Serves Me Right" is a strange combo of Bobby Bland's smoky soul and John Hiatt's snarkiness as voiced by Campbell, a mind-melding mix that just oozes soul with those heart attack horns stabbing you in the chest all the way thru.
Kastner,Campbell and Bergman wrote all the tunes, managing to recall the feel of a late sixties soul session from Stax or Muscle Shoals. "Let Me In" is a time warping blend of styles, sounding like a Little Richard session with Johnny Adams on vocals and Jimmy Vaughan twanging away on guitar.
It might not be good for your heath, but this stuff sure is fun to listen to. Just keep those shock paddles handy just in case.