Album Review
Jared & The Mill's EP Will Keep Going on Repeat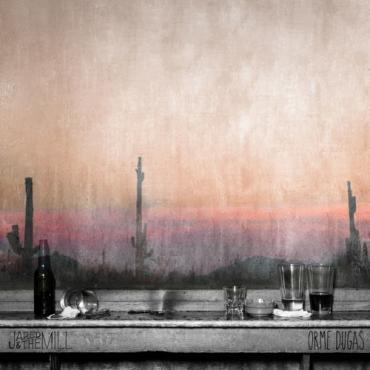 It might be called the United States of America but if, like many in this country, someone has never really gone beyond the state of their upbringing, places on the opposite side of the nation might feel like a whole other world, sooner than a place providing a sense of singular connectedness. Thankfully, Jared & The Mill bring a perfect little slice of a solution to this scenario, enjoyable via their new EP, Orme Dugas, (out today, independently).
Based in the quintessentially southwestern town of Phoenix, Arizona, Jared & The Mill (Jared Kolesar, Michael Carter, Larry Gast III, Chuck Morriss III, Josh Morin) don't limit their southwestern character to the band's introductory description. Rather, this five man band is proud of their roots and, on this new extended play, the self-proclaimed "western indie rockers" dig their heels firmly into the Arizona dirt even more than on their previous EP release, Life We Chose (independent, 2015). Immediately from the basics of the cover art and title, Orme Dugas (pronounced ORM Doo-gahs) is out to give listeners a peek into the place Jared & The Mill call home. Gast III explains that, in being slightly perplexing for most, the title is a great "little invitation to listeners from other states to do a little [research] and learn something extra about our home state." Past the geographical factoids, another major aspect of Jared & The Mill's life put on display by the EP is touring: long, far, and wide.
Ask virtually any musician or band that's toured for a lengthy period of time and they will likely divulge that the decision to do so had a massive impact on every facet of their lives – not only the musical parts, though references to the instability of full-time band life are plentiful on Orme Dugas (But they say boy you're looking skinny / Should you really go this hard? / You're doing it for nothing / These risky miles you're truckin' / are crazy as they are far). Jared & The Mill let people into the ups and downs of its traveling exploits over five tracks that are filled to the brim with literal recollection and description, wrapped in a layer of metaphoric likening, right from opening track, "Lost, Scared & Tired." (Can you tell me / about the moon that rises earlier up north? / Or how the hills really sing / in the early part of spring / where the road goes on forever / like the pictures that we see?)
The EP serves not only as an externally facing looking glass – tied heavily to the sustainment ("Keep Me Going") or deterioration of relationships – (A couple months later things are getting too hard / just hold on / Tucson ain't that far / and you know I'm coming home) but also one turned on Kolesar himself, often reflecting on present truths or intuitions yet to come (It's tough, getting tougher and I can't deny / I'm no fool / This love won't survive). While love and loss isn't unique to Arizona, it's Orme Dugas' story of slowly burning cause and effect that really grabs at the ears and the heart, wanting the best for everyone involved, knowing that may or may not be how it's going to go. The title of closing track, "Song For A Girl," is just open-ended and vague enough to leave optimistic possibility on the table; the actual outcome of which won't be spoiled here.
Guitars both acoustic and electric reign, as the foundation for primarily uptempo hooks throughout the EP, often standing out like a lone cowboy or ranch hand against a vast and dusty horizon. Staples of southern songwriting – like lap steel and organ – echo, contrasting with the shorter sounds of banjo picking, whip-cracked snare, and tambourine, not to mention a bass shaped with the occasional rumbling tone, adding a sonic nod to the visual themes of severe weather and immense landscapes. The band's finesse with a large array of instruments, which extends to a much longer list in its entirety, is impressive all on its own. When blended with the group's equally powerful but carefully delivered voices, on paper, the EP comes across like a wall of many sounds. Despite this, Jared & The Mill, knowing when to give and take on parts; knowing when to highlight that one unexpected vocal stretch, which lands all too coincidentally on a poignant lyric (Oh I'm lost without your voice to keep me going on); and having an ingrained sense of effortlessly synchronized harmony from years of history together, is what makes Orme Dugas the intricately assembled record it is.