Album Review
Jay Clark's Appalachian Folk Music Is Both Tender and Timeless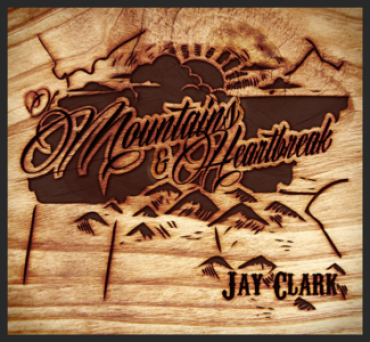 The wealth of talent that continues to emerge from East Tennessee affirms the fact that Knoxville is every bit the equal of Nashville when it comes to honest, homegrown Americana. There are so many superb artists in thet area that lies on the outskirts of the Smokys that it's almost impossible to keep track. Nonetheless, there's one musician who's emerged in recent years that deserves special attention for honesty, integrity and the special sentiment that accompanies a life well lived in the shadow of those magnificent mountains. 
Jay Clark writes and sings material that can make a grown man cry.  On his new album Mountains & Heartbreak, Clark takes that evocative view several steps further, reflecting on tales taught by his forebears, lessons learned from nature, the simple celebration of God's green earth and the need to preserve the gift Mother Nature gives us. The commitment and sincerity is evident in each of these offerings, from the celebratory stance of "Alive," "Masterpiece" and "Barroom Gospel" to the wealth of reflection apparent in "Seeds of Love" and "Mountain in the Sky." Clearly Clark has a way with words and the expression of emotion, but his supple melodies and the richness of his arrangements make each of these offerings resonate with grace and compassion. 
Credit also ought to go co-producers and collaborators Greg Horne (guitar, mandolin, harmonies), Daniel Kimbro (stand-up bass, harmonies) and Thom Jutz (acoustic guitar) for helping to giving this evocative music its magic. Its richness cannot be understated, the inspiration a product of Clark's heart and soul. A telling and evocative study of all those things that should always remain especially near and dear, Mountains & Heartbreak is without doubt an album for the ages.