Album Review
JD McPherson's Refined Rock and Roll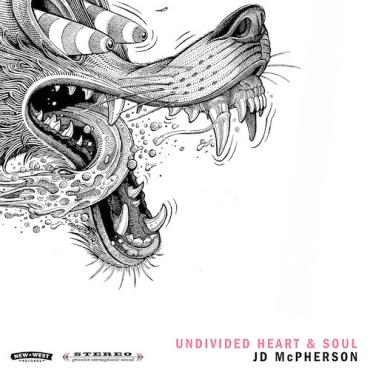 It's fitting that soul rocker JD McPherson recorded his latest record, Undivided Heart & Soul, at the historic Nashville studio that has hosted the likes of Elvis Presley, the Everly Brothers, and Dolly Parton. With each new album, McPherson seems to be pushing himself to the ranks of the greats, getting better and more interesting as he moves forward. Undivided Heart & Soul is a more complex record than 2015's stellar, bat-out-of-hell release Let the Good Times Roll. McPherson stretches his range of vocal stylings and moves into a more contemporary rock and roll space than his previous, often retro-sounding work.
The aesthetic shift has, no doubt, been a result of his relocation from Oklahoma to East Nashville, which has found him in the company of collaborators like Dan Auerbach, Aaron Lee Tasjan, and Parker Millsap, and which put him in closer proximity to the landmark RCA Studio B, where Undivided Heart & Soul was made. But the real magic seems to have happened when McPherson joined his friend Josh Homme (Queens of the Stone Age) in Los Angeles for a jam session that helped him reconnect with his intention for Undivided Heart & Soul, and tap into a true rock and roll sound.
As he's known to do, McPherson has still given us a set of songs we can dance to, but there's more intrigue here than on anything he's ever done. Lead single "Lucky Penny" plays with a bluesy arrangement, but creeps up on you with its fiery swagger. Elsewhere, McPherson displays some of his best soul vocals on "Let's Get Out of Here While We're Young." "Bloodhound" is a groovy, mostly instrumental blues track that, halfway through, transforms into an explosive, vintage-feeling butt shaker. And "Hunting for Sugar" is a slow, smooth kiss-off with a slinky, walkin'-after-midnight air of mystery. McPherson's natural charisma comes through on each song, whether it's a driving rocker or a cool, R&B groove. There's a pulsating excitement on Undivided Heart & Soul, and McPherson expertly navigates and refines it.