Album Review
J.D. Wilkes Slows Down (Just a Bit) for Solo Project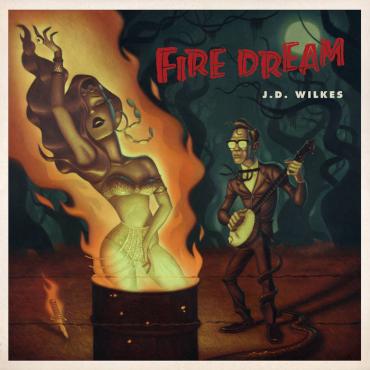 Take Iggy Pop, roll him through a patch of skunkweed and 'shrooms, dip him in a vat of moonshine, then throw him into a boiling cauldron of possum grease till deep fried. Remove from the grease, set him on stage, then get the hell out of the way.
Although J.D Wilkes appears to be a backwoods clone of Iggy, the Legendary Shack Shakers frontman says there's no conscious connection. "It's not that I try to do that," he says of his raucous delivery and in-your-face and often in-your-lap stage-diving antics. "I don't even think I'm that extreme. Any blood that comes out on stage is accidental. I'm not cutting myself or feeling like a man possessed or anything. Just accidental when you throw yourself around We're all pretty wild and crazy up there. It's like three or four Iggy Pops on stage – it's pretty scary."
Wilkes is blues based, but his sound is more hellbilly, usually looking and sounding like he's just been dragged out of the nether regions and is still smoldering internally. Fire Dream is a solo project for Wilkes, on which he takes a different direction from the Shack Shakers' usual hell-for-leather blues attack, a bit slower and sonically weirder. The title cut is Halloweenish gypsy jazz that sounds narrated by Tom Waits, a throwback soundtrack to some of Merrie Melodies 1930s-era cartoons. The Shack Shakers have done something similar with "Sing A Worried Song," producing a cartoon tribute to Cab Calloway that looks like it came from that era and was featured on the Shack Shakers' last release, 2017's After You've Gone.
"Down in the Hidey Hole" is more of the same, Screaming Jay Hawkins lyrical fodder with a ska feel provided by members of Memphis soul/jazz band the Bo-Keys, including bassist Scott Bomar along with the brassy accompaniment of trumpeter Mark Franklin and saxophonist/arranger Kirk Smothers.
On "Moonbottle" Wilkes proves he can actually sing without sounding like he's gargling tacks, a samba beat sashaying behind him as he mutters softly about moonlight and the sea.
"Hoboes Are My Heroes" is more gypsy jazz, sounding like Tom Waits waxing poetic about the joys of homelessness.
Jimbo Mathus co-produced the project with Wilkes and contributes drums, guitar, and organ along with Drive-By Trucker Matt Patton on bass and background vocals.
"Wild Bill Jones" features Wilkes on banjo and vocals for some hellbilly bluegrass ably abetted by Squirrel Nut Zippers' Dr Sick on fiddle.
"Rain and Snow" is about as straight up bluegrass as Wilkes can get, a Civil War-era song covered by Del McCoury, Peter Rowan, and the Grateful Dead. Wilkes' version is stripped down to just banjo and snare drum.
Fans of the Shack Shakers may find it a bit pedestrian, but its a pretty good bet that when he gets it in front of an audience, Wilkes' spit, sweat, and blood'll be flying as fluidly as ever.