Album Review
Jeffrey Martin Is Back for 'One Go Around'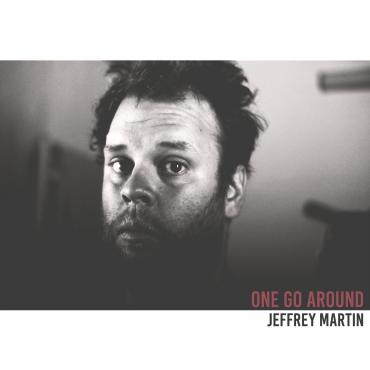 Portland singer-songwriter Jeffrey Martin has proven with his last few albums and his many shows that he truly possesses a gift for marrying Americana music and expertly penned words in an expressive way that paints a vivid picture of people, places, and events that are at once relatable and highly interesting. He achieved this remarkably well on his Dogs in the Daylight album (2014, Fluff & Gravy Records), and he has done it again with his latest release, One Go Around. As it turns out, the latter is nearly as good, if not as good, as the former.  
One Go Around, like Dogs in the Daylight, is the poetry of America, the picture of cities, the long stretches between cities, and the things that transpire there. It is the stories that make their mark on the individual and thus take up residence in his memory. But it is also the voice of an artist who is ready to both live for his art and make a living from his art. In fact, Martin has recently quit his job as a high-school creative writing teacher to place a full-time focus on his artistic endeavors; a decision that might be ill-advised for some, although in Martin's case I wager that it will only strengthen him as an artist and aid in his future successes.  
One Go Around opens with one of the album's standout tracks, "Poor Man," in which Martin sings, "I'm not a bad man; I'm a poor man." It's strange how one is so often associated with the other even when it's not warranted, and it usually isn't. Martin has a knack for capturing the spirit of the working class; in this case, the families that scrape by from payday to payday and still can't make ends meet, suffering despite their hard work. Another standout is "Billy Burroughs." This song is about the late Beat Generation figure and writer, specifically the Mexico City incident in 1951 when Burroughs shot and killed his common-law wife, Joan Vollmer, while performing a "William Tell act" at an apartment above a local bar. As someone who was quite a Beat literature enthusiast in his youth, this song is admittedly a favorite for me. "What We're Marching Toward" is an important message regarding today's tense and agitated social and political climate, indeed a song worthy of standing beside such political folk and protest song legends as Phil Ochs, Woody Guthrie, and Bob Dylan. And then there is the album's closer and title track, "One Go Around," which is a powerful and contemplative piece, philosophically existential in that its focus is on the temporal state of human beings, the colossal importance of what we do while in this singular mortal state, and how we may only have one chance to truly live.   
For the recording of this record, Martin didn't want to go into the studio or be overly involved in production. Instead, he went to a friend's house on the Oregon coast, where he took his time laying down the guitar and vocals just the way he wanted them. After that, he sent the bare-bones versions of the songs to Tyler Fortier at 4Tier Productions in Eugene, at which point a handful of talented musicians contributed to the compositions, including Merlin Showalter (drums), Milo Futz (upright bass, electric bass), Anna Tivel (violin, octave violin, vocals), Bryan Daste (pedal steel), and Fortier (electric guitars, piano, banjo, organ, percussion, keys, etc). What resulted was 11 wholly impressive songs.
Jeffrey Martin's One Go Around is available now in CD, vinyl, and digital formats from Fluff & Gravy Records.
Check out this video of Jeffrey Martin and Anna Tivel recording One Go Around's opener, "Poor Man."
https://www.youtube.com/watch?v=2uwpaxTkDrY