Album Review
Jeremy Steding and The Rebellion 'Odessa'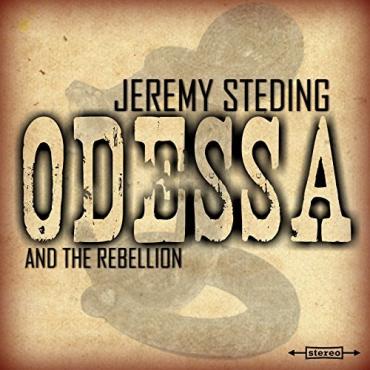 With the first few notes of the jaunty fiddle and driving guitar, Jeremy Steding's latest ropes you right in. Odessa, the singer-songwriter's fifth album kicks off with the dynamic title track where his distinctive vocals convey a triad of strength, grit - and a bit of attitude, and from there flows graciously into current single, the heartwarming, sentimental "Feels So Good To Be Back Home," and "It Takes A Lifetime" - one of those rare songs where melody, lyricism, and delivery perfectly complement one another making the song's impact undeniable, before dancing the night away on the flawless two-stepper "Late Night Love Song."

The eight-track collection, all of which Steding had a hand in writing, also includes the edgy, urgent tale of regret "All These Lights," "Blinded by the sight of my shortcoming everything I saw/I saw wrong/I look past your love and left you wanting," and the dance hall ready "I Need A Texas Song" which extols the charms of other cities, but puts forth a longing for all the Lone Star State has to offer, as well as two intense tracks which close out the record: "Whiskey Institution" which explores how the libation changes him and "Get Me The Hell Off This Rig" an emotionally stirring story song about a guy stuck working a job he doesn't like that will certainly be relatable to many.

In "I Need A Texas Song" Steding sings of wanting "A Texas song, the kind they only sing back home" - with Odessa, he has eight of them all of which will have people singing not only in the place he calls home, but far beyond as well.
Originally appeared in The Daily Country