Album Review
Jerry Lee Lewis – Rock & Roll Time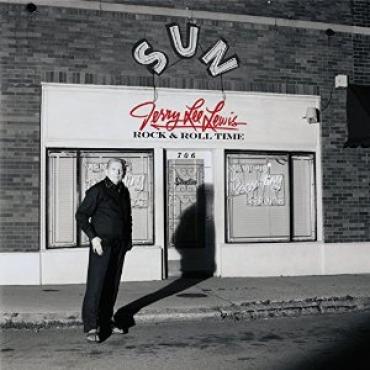 Hide your women, lock up the drugs, and cover the children's ears -- the Killer is back, and he's badder than ever. Jerry Lee Lewis' latest, Rock & Roll Time, is not so much a comeback as it is a payback to all the naysayers who wrote him off years ago. Lewis has never sounded better, or stronger. His vocals and his pumpin' piano are as rock-solid and raucous as they were when he first stirred up a nation of rebellious teens with "Whole Lot Of Shakin' Going On" in 1957.
As he proved on a recent episode of David Letterman's show, he's still as cantankerous and rebellious as ever. Even though he wasn't interviewed, he still managed to take over the show. Squeezed in behind his own piano in back of bandleader Paul Shaffer, Lewis was supposed to play the show in and out of commercials. But, instead of stopping whatever song he was doing the second the show came back from commercial, as Shaffer does, Lewis continued to play 'till he got through to the chorus on every song. It didn't matter who was on the dais or what Letterman was saying -- it all had to wait till Jerry Lee had his musical say. It was great TV, and the Killer was in murderous form, ripping through his classics as well as a handful of new ones from his latest.
There are a bunch of high profile guest stars onboard,  but they aren't here to carry him. Some seem like they have trouble keeping up with Lewis' breakneck performances.
Lewis starts off with Kristofferson's "Rock and Roll Time." Even though it's got rock in the title, its more country with a gospel flavor. The 79 year-old's vocals would be impressive for a man half his age --it's as good or better than any of the country tunes hes cut in his career. Doyle Bramhall's guitar provides just the right amount of weep to keep it rural, but still churchy.
You'd think that Keith Richards, with Ron Wood backing him, would own "Little Queenie," but it ain't so -- it's Jerry Lee all the way. The Stones' 1970 Get Your Ya Yas Out version will always be the one to beat, but Lewis' leering, lascivious redneck rock vocal takes it to another level, backed by the great Jim Keltner's impeccable pelvic pulsating, percussive performance.
All the cuts are so impressive, it's hard to pick highlights. But "Bright Lights Big City" with Neil Young is a killer. Young plays guitar on the track and has a singing credit, but it's Jerry Lee on top all the way, yodeling and pounding the keys like the Farraday, Louisiana wildman of old, giving the Jimmy Reed laconic blues a hard-charging rock and roll makeover. "I tried to tell ya, but you never would listen," Jerry Lee talk/sings at the end, before adding "I think she's learned her lesson now," as the cast breaks out into raucous laughter.
"Here Comes That Rainbow Again" is the only tune Lewis actually allows a full vocal collaboration from his guest. And, Shelby Lynn just kills it. Her ravaged, world-weary baritone is the perfect counterpoint to Lewis' honky-tonk heartbreak tone.
Lewis amps up Chuck Berry's "Promised Land" to such a speed that guitarist Bramhall sounds lost, unable to keep with Jerry's Lee's rattly breakneck pace till the fade-out when he finally gets in the groove. But, rather than detract from the tune, it helps make it sound ragged and dangerous, the way rock and roll's spozed to be.
This one's got everything -- the best of Jerry Lee's country side and his rockin' wild man persona, seemingly undamaged by the ravages of time and hard livin'. If he never makes another one, this one is a fitting epitaph: I came, I saw, I killed it. Rock on.
Grant Britt