Album Review
Jess Jones - Roll the Dice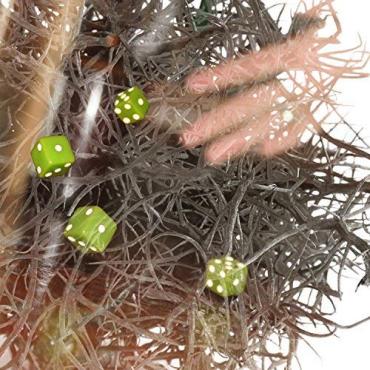 Jess Jones - Roll the Dice
URL: https://theofficialjessjones.com/
Jess Jones' songwriting has personal stakes we don't often hear from singer/songwriters nowadays as she explicitly ties her art to details of her own life. It's unambiguously, unabashedly personal. The New York native recently relocated to the Los Angeles area in an effort to explore new horizons and this song is an outright testament to the risks such a decision means for her near future and, likely, the trajectory of her life for years to come. She definitely operates in a singer/songwriter vein, but her folk music credentials are unquestionable and she proves to be an adept guitar player as well. There's a light presence of percussion and ghostly organ in the arrangement expands on the song's melodic and aural possibilities. It's a classy, yet thoroughly passionate and her singing demonstrates the canny moves of a much more veteran performer than someone in the first few years of their professional career.
The production does an excellent job of capturing both the acoustic guitar work and Jones' voice in a keen eared balance between each element. There's a warm sound surrounding both aspects of the performance and they work in accord with one another for the entirety of the song. "Roll the Dice" has a solid vocal melody that carries Jones' narrative in a way that lets you fully feel her confidence and nerves alike. The bass playing is stripped down to its essentials and gives the song a steady heartbeat underneath that gives Jones a constant musical foundation for her voice to depend on.
It's a wonderfully wise and insightful lyric from this young artist, but what makes it stick in the memory more than anything else is how much of her soul she invests into getting across the song's story and point. "Roll the Dice" is sure to connect with many listeners, I know the younger version of myself still living within me responds to its sentiments, and it's this aforementioned artistry and relative simplicity of the music that makes it so easy to connect with its intended audience. The song has an unmistakably vibrant swing, catchy even, and the chorus rates as the high point of her efforts in this direction. Its catchiness, however, never diminishes the urgency of its "message".
Jess Jones has definitely rolled the dice with this recording, but there's a confident twist in her wrist. It's no crapshoot why this song is so successful. Jones brings a polished degree of both literary and musical merit to this single that goes far beyond her years and it's impressive to consider how much further she will go with future singles and longer form releases. Jess Jones' "Roll the Dice" is one of the best folk/Americana tracks from any performer, any gender, in recent years and illustrates her staying power for anyone willing to give her a listen.
SPOTIFY: https://open.spotify.com/album/5Jr7dIpYdupKmnIPz3fbCW 
Mindy McCall