Album Review
Jessie Baylin's Wonderful World of Whimsy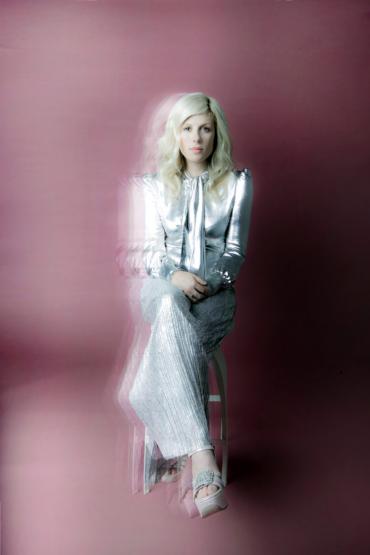 It has always been one of life's greatest challenges juggling parenthood and a career, but when you're a parent and a touring musician, it adds another layer to the process. Jessie Baylin's motherhood journey had been well documented on her endlessly entertaining and thoughtful Instagram. It is impossible not to smile whenever she shares one of her many adventures with wide-eyed daughter Violet in tow. And she recently welcomed a baby boy (with husband Nathan Followill), continuing to grow her family. So it makes sense that her new record Strawberry Wind was inspired by what was all around her – family life and the childlike wonder that comes from experiencing the world as something new and thrilling. Billed as a children's album, it takes a far different turn than her 2015 release Dark Place, but it's no less beautiful or deep.
Dark Place was a stunning confrontation of pain, told through Baylin's rich, smoky vocals. Her songs about being so overcome with emotion hit right in the heart. With Strawberry Wind, Baylin explores that beautiful connection between parent and child, pushing the envelope of what can be shared and mutually respected. Like Harry Nilsson or Carole King before her, Baylin sought to make a children's record that could be smart. There's no dumbing things down, but there is appreciation for that which is simple or beautiful.
"Sparkle Shoelaces" is all about the hypnotic way glitter can jazz up just about anything, but it's nod to a mid-century modern lounge aesthetic gives it a sophisticated touch. "Power in the Words" is a strong life lesson about teaching yourself to listen and think before speaking, set to an undeniable groove. "We Need Each Other" is a sun-drenched doo-wop gem about the important of surrounding yourself with people you love, and "Magic Of Your Mind" finds Baylin as the wide-eyed one, amazed at the boundless imagination of a child.
Baylin's use of synth and embrace of whimsical sound effects and distortion on Strawberry Wind give it a cartoonish feel, but more The Point than SpongeBob. She's created a vibrant, colorful world that both kids and adults would be happy to live in.