Album Review
Jimmy Carpenter's Non-Obscure Blues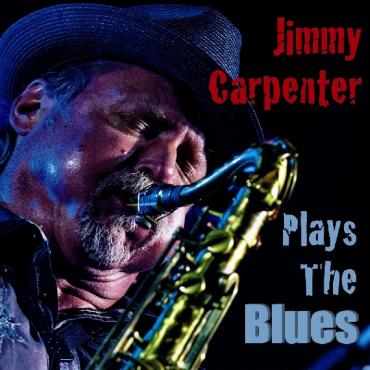 Despite blowing his lips off and his brains out for three decades, by 2008 tenor saxman Jimmy Carpenter felt like he was toiling in obscurity. His first solo record that year – titled Toiling in Obscurity – helped pull him out of that status, and 2014's Walk Away further dispelled that notion. With a career that has so far encompassed playing and recording with Tinsley Ellis, Jimmy Thackery, Walter "Wolfman" Washington, Eric Lindell, and Mike Zito, Carpenter recently decided to plug in all those blues inputs and spotlight what he's been backing all these years.
Even though his latest, Plays the Blues, was recorded in Carpenter's former adopted hometown of New Orleans during Mardi Gras, he kept the carnival out in the streets. Some soul wanders in, and some surf slithers under the door, but it's mostly big-bottom blues blasting forth.
Magic Sam's "You Belong To Me" gets a full makeover from producer/guitarist Zito, funkier than Sam's original, sounding like Albert Collins backed by A.C. Reed hung on a Junior Walker "Shotgun" frame.
The title cut is a Carpenter original, with a woozy, late-night cabaret feel, when all the chairs are stacked on the tables and only a few diehard veterans are still leaning on the bar listening to the obscure saxman railing at the unstoppable approach of the oncoming dawn.
"Kid In My Head" is Carpenter's career best, Chuck Berry lyrics laid over the top of Dave Dudley's "Six Days on the Road." It's an unapologetic confession of ongoing adolescence: "Despite all my efforts. baby, I'm a full grown man," Carpenter growls gleefully. "This is how I wanna be, some kind of middle aged Peter Pan ... There's a teenage boy livin' inside my head."
Carpenter pays tribute to one of his main honker influences, tackling King Curtis' "Preach" from '66s Live At Small's Paradise, grinding soulfully and respectfully through King's masterpiece.
His instrumental rendering of Sam Cooke's "Change is Gonna Come" is also of royal lineage, once again channeling King Curtis in as version that would be as much at home in church as in a smoky barroom.
He busts out the lights with another idol shout-out, covering Junior Walker's "Shotgun," Zito clanging like a steeldrivin' man over Carpenter's frenzied blasts.
Carpenter's turned on all the lights with this one. There's no place to hide, no more obscurity. It's about time, for him and for us.