Album Review
Joe Koenig - Bleed Like You Bleed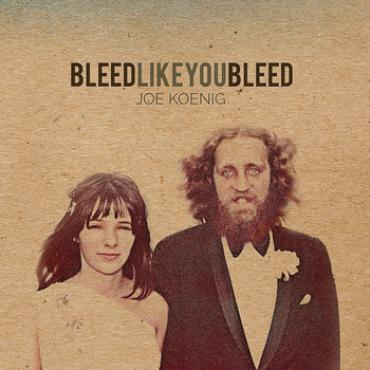 Joe Koenig released a collection of his custom brand of Texas rock and soul, Bleed Like You Bleed, on his own Rockin K Records. The Concrete, TX native's second record features a dozen original songs accompanied by what sounds like a one-take cover of Springsteen's classic "Atlantic City" that even a Jersey boy like me can't pick on. Koenig spent the past six years writing -- and nearly six months recording -- the album, and it reflects a certain "coming of age" feel. Ever the family man, Koenig's songs are well-crafted, deeply personal and therapeutic. They're songs for the working men out there providing for family first, keeping a sharp edge on their art a close second.
Calling the California Central Coast home now, Koenig continues to keep an active touring schedule with backing band, The Homewreckers. Bouncing back and forth along the Texas/California byways and highways, sharing the stage with legends the likes of Leon Russell -- and those headed in Russell's direction, like Todd Snider, Hayes Carll, and Bob Schneider -- along the way. The band covers all the classic country fixins: plenty of acoustic guitars and harps, fiddles, pedal steel guitar, some banjo, and a heaping helping of telecaster.
Bleed Like You Bleed steers between upbeat rock gems and beautiful country-esque songs, some even teaching valuable life lessons. "Work" notably teaches a lesson to the seemingly un-motivated and lack-of-work-ethic folks in today's great US of A: "put your head down and keep your chin up, the work will get you through." Sadly, it's now almost a dirge as mass laziness is our biggest combatant as a country. Work is a central theme of most of the record, due to Koenig's rearing on a farm, where hard work is more of a passion than a chore. It's a theme I can wholeheartedly relate to, having spent a great deal of time in the barns and fields of a rural NJ farm in a small Hunterdon County town. You get out of life, what you put into it.
Bleed Like You Bleed was funded by a Kickstarter campaign, which is becoming a more modern trend amongst independent artists. It makes perfect sense, too: let those who will be purchasing and supporting the effort enjoy being a part of the actual album process. It gives you a sense of being a part of the record -- more than you'd get from picking it up off of iTunes or any other disparageable mp3 slinger, after reading about it on some blog. Koenig met his goal and then some during his campaign, in turn releasing a high quality record in both sound and appearance. Kudos, Joe Koenig. I'm definitely interested in hearing what the future holds for you musically. Bleed Like You Bleed is highly recommended and will be enjoyed at the Sad Songs Keep The Devil Away stable for a long time coming. 
+Words: Scott Zuppardo+
SSKTDA on Facebook | SSKTDA on Twitter
***Check us out at Sad Songs Keep The Devil Away for more musings and such. Dig Deeper, you deserve it***
music submittals: sadsongskeepthedevilaway@gmail.com