Album Review
John Black's Moanin' Soul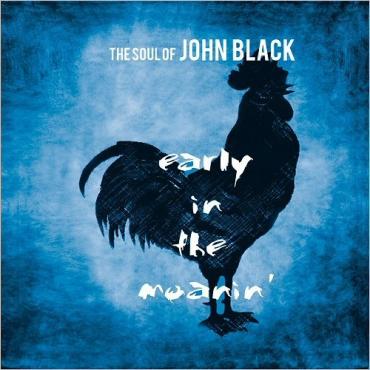 Like Bill Withers channeling Prince with Larry Graham leading the band, John Bigham is the Soul Of John Black. With a pedigree that includes 8 years with Fishbone, playing rhythm guitar with El DeBarge  and working with Miles Davis while Davis was recording songs with John Lee Hooker,guitarist Roy Rogers,drummer Earl Palmer and Taj Mahal for the soundtrack for Dennis Hopper's 1990 movie The Hot Spot, Bigham came up with his own funky, soulful concoction that blends jazz, blues, and hip-hop into something that transcends all those genres.
"Can't Be Helped" sounds like a swampier incarnation of Larry Graham's Graham Central Station, a swamp thang slogging through the primordial muck looking for a bigfoot mate to splash around with 'cause the voodoo doctor already done told him that he "can't be helped by nobody but thee/now lay some hands on me." By the time the title cut slithers by, you know you've stumbled across an exotic blend. Bigham as Soul of Black as Withers as Prince is a hypnotic suggestion that'll have you stumbling around like a funked out Zombie, looking for recruits to infect with the biting rhythms you'll feel compelled to spread. Even though he calls it "Chicago Blues," this cut  sounds more like Bill Withers' deep dish soul, set in the Windy City. "Crooked Leg" gets Graham's nasty, low down bass sound up front as Bigham/SOJB does a spot-on impersonation of Graham's fonky bass vocal as well, rattling the foundation of some shaky stilt shack quiverin' three leggedly in the swamp. Bingham picked Prince's pocket for "Cher," a song his Purpleness would have loved to claim.
It's snaky, fonky, and impossible to get outta your head. Live, Bigham puts some stank on it, latherin' it up with rendered swamp critter grease to muck it up a bit.
"I Wish I Was Makin' Love" is siphoned directly from Bobby Blue Bland's bloodstream, slinky soul that worships at the church of Her, a sermon of the pleasures of the wages of the sin he hopes to indulge in with Her …. "someday, baby." "Early Riser" is totally out of character with the rest of the release, so unexpected that it throws you for minute, sounding like Curtis Mayfield inventing a new folk/soul hybrid. But it quickly wraps you up and carries you along comfortably for the ride. "Sunset Drive" is a dreamy, instrumental cruise through the streets of Bigham/Black's adopted hometown of L.A., all the bumps smoothed out, the only distraction a few disgruntled mumbles from the drivers of passing cars who hear his drive-by soundtrack and want to do a ride along. You may have trouble putting a label on this one, but once you hear it you won't have any trouble finding a slot for it in your collection. The only trouble you'll have is it jumping out at you every time you pass by, but in this case, that's a problem you won't have a problem with.