Album Review
John Howie Jr. Pours His Heartbreak into Honky-Tonk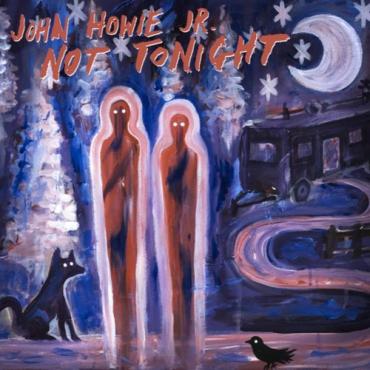 Now this is country. John Howie Jr. calls it his little breakup album, and it's as advertised, with heartbreak, misery, honky-tonk twang, and weeping pedal steel colluding to bring you the best of the worst a man can feel and still go on. The former Two Dollar Pistols leader comes out with guns a-blazing, laying his wounded, bleeding heart right out there on display while firing off a few shots in his own defense as well.
Howie has always been fearless about his music, from his punk drummer days through the Pistols and into Rosewood Bluff. Live sets featured the Pistols following the Clash's "Brand New Cadillac" with Johnny Cash's "Blistered," then slipped in some Moe Bandy or George Jones later on in the set alongside some Howie honky-tonk originals like "You Ruined Everything." Rosewood Bluff trotted out more ballads than the Pistols did, but honky-tonk never fell out of the equation.
There's plenty of that here. With the  help of Nathan Golub on pedal steel, Alec Ferrell's twangy electric, and his own acoustic accompaniment, Howie slides around in misery on the opener, "Wish My Heart," waiting for his heart to tell him what to do. "She stays out late most every night these days/And I can't say that I fault her for her ways/If I had some place to go then I'd leave too," Howie moans. It's perfect old school, cry-in-your-beer accompaniment, a jukebox magnet for heartbroke cowpokes or them what just want to open the floodgates the cowboy way.
He gets in a few jabs at his ex-beloved on "Never Could Say Yes," accusing her of messing with his mind: "You rewrite the rules while you rewire my brain/Convince me I'm insane/Guess there's no way you can lose/when you make up the game."
Even though it's still pain-wracked, "When I'm Not There With You" is the most lively cut, one you can two-step smartly around the dance floor to while your tears dry.
"I Don't Feel Like Holdin' You Tonight" shows off Howie's gifts as a lyricist, portraying in a few words the anger and hopelessness he feels trying to be physically close to somebody he really doesn't want to touch but is not quite ready to kick out of the bed just yet. "You can stay over on your side of the bed," he tells his soon-to-be-ex paramour. "I got jealousy and anger in my head/You been doing me wrong and you think it's alright/And in a couple hours them curtains/Will be holdin' back daylight/So I don't feel like holdin' you tonight."
But he really nails himself to the wall on "Underground," opening the curtains on a May/December relationship set to the slow drag of funeral dirge. "You're hangin' out with kids and I haven't felt so old in so long/You're always talking bout some stupid band and how great they sound ... I don't think I'll go to your bar today."
Howie has made misery an art form here, honing his pain to a razor's edge that cuts deep into his audience as well. The title cut is a break-up classic, the perfect closer to the album and the relationship. With his best George Jones vocal draped over his solo acoustic for accompaniment, Howie embraces his old standby while saying goodbye to his used-to-be and think about moving on — but not just yet. "The only thing I wanna hold is my best guitar," Howie tells her, after informing his not so dearly departed that he's packed up her stuff and will be leaving it on the porch. "So you can head on home when you get done/I won't be there/Ain't gonna call you names/I'll take all the blame I think that's only fair/I might fall in love tomorrow with the early morning light/But not tonight."