Album Review
John Latini's Feel Good Blues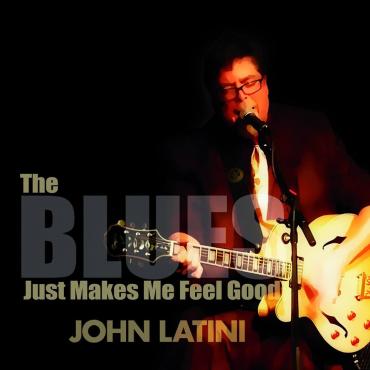 Wrap up Paul Thorn and John Hiatt with barbed wire, roll 'em downhill in a steel barrel with Delbert McClinton's kick ass road band providing accompaniment for the proceedings. Vocalist/guitarist/ songwriter John Latini's first full length release is a shack-shakin', window bustin' blues party. Latini's muscular, rockin' blues grabs you by the throat from the get-go and won't let go. The Detroit-based Queens native has taken home the trophy for the Detroit Blues Challenge twice and his band the Flying Latini Brothers have been whipping Michigan audiences into a frenzy for years.
Latini is a sneaky bastard, creepin' up on you with a slow roll on the opener, "Black Eyed Blues." But when the horns kick in and the bass starts walking up your backbone, you realize you've been possessed. Latini's guitar Chuck Berrys you along for a few bars before tossing in some stinging Albert Collins licks. By the time this one struts to a close, you're up and prancing around the room, shaking your bidness in a most unseemly fashion.
Latini inhabits Tom Wait's fractured larnyx for "Lord Made Me A Weak Man." It's a love song of sorts, with Latini on the losing end, pining for his lost love : "She meaner than a buzzsaw/she chop wood like lumber jack," he reveals backing his comments with a big foot stomp. But her departure seems to mystify him, as he's positive he's been providing her with some fine lovin': "I can tell from the hollerin' an screamin' I got that right," he brags as Neal Donato's B-3 burbles agreement.
As good as he is at providing good time get down party music, he's also one hell of a songwriter. "My Town Got A River And a Train" sounds like a Hiatt tune performed by Thorn, just a simple little travelogue through his adopted home town of Ypsalanti- until he eviscerates you with the last verse: "My town got a courthouse/my town got a bar/ a Simple symbioisis/ that crates a Shangri-La/ some lawyers will drink whiskey, some drunks will drive a car/so my town's got a courthouse and a bar."
"Gotta Have My Babies" is a a big-band romp with a Texas roadhouse feel, plenty of honky-tonk gee-tar twang wrapped around a roll call of down-home beloved ones of the moment including good ole girls Martha Raye, Georgia Lee, Loretta Joe, Carol Brown, Jamie Sue, and Lenora Jane : "I got so many babies its a wonder I remember all their names," Latini growls.
This is a great find, every cut a pleasing earwash that spreads quickly through your suddenly not so nervous system curing stuff you didn't even know was wrong witcha. Your prescription is ready-come and get it.