Album Review
John Lee Hooker's Endless Boogie Box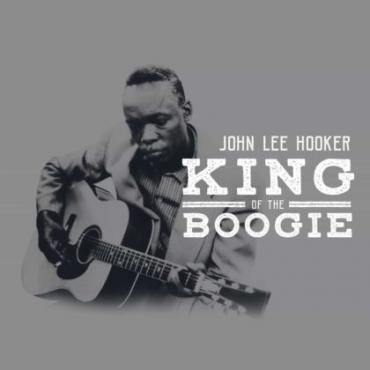 Boogie King John Lee Hooker never could help it – he was born that way. "One night I wuz layin down/ I heard mama an papa tawkin'. Heard papa tell mamma, 'Let that boy boogie-woogie, cause it's in him, and its gotta come out,'" he explains on "Boogie Chillen," from 1949's John Lee Hooker and His Guitar.
Craft records has curated a 100-cut, 5-CD collection of Hooker's work that spans the singer/guitarist's career with deep cuts from the days when he recorded as Texas Slim and Johnny Lee up to his last duets with Van Morrison, Los Lobos, Jimmy Vaughan, Santana, Bonnie Raitt,Los Lobos, and Eric Clapton.
A lot of the stuff from his early years on Disc 1 are fit for a four-day creep where you crawl out of bed, grab a bottle or two, pull down the shades, jump back into bed and and don't come up for air till you've wrung all the no good outta yourself you can get to for now. To help you get down, he offers a staggering variety of blues prescriptions including "Weeping Willow," "Moaning," Goin' Mad," "Stuttering," and "Hobo Blues." You can even slither around like a "Crawlin' Kingsnake" till you get your boogie bearings. But no matter a-how-how-how-how you go about it, Hooker is a step ahead with his laconic delivery propelling you onward to another bluesy boogie challenge.
Disc 2 has some revelations: "Will the Circle be Unbroken" sounds like Johnny Cash backed by Pops Staples' guitar. The previously unreleased '61 cut "Meat Shakes On Her Bones" is not nearly as salacious as the title sounds, just some feel-good boogie about his long, tall woman built like a willow tree who wiggles and shakes meatily when she walks.
Disc 3 starts with '62s "Boom Boom," Hooker a-how-how-howin' like the boogie regent he's become, falling back into a relentless, chooglin' groove for '65's "Big Leg, Tight Skirt" with a coterie of unknown musicians. "Serves Me Right to Suffer," also from '65, also features uncredited musicians, which is a real shame. It's a tight, clean band, the drummer making the tone even more sinister tapping on what sounds like bottle caps, sounding like a rattler fixing to strike. '67's "The Motor City Is Burning," with Buddy Guy helping out on guitar, is a firsthand account of the July 1967 Detroit riots from Hooker's front-porch vantage point. "Oh, the motor city's burnin'/Ain't no thing in the world that Johnny can do," Hooker sings while Guy punctuates his account with steely curliques. "My home town burnin' down to the ground/Worser than Vietnam/I don't know what the trouble is /I can't stay around to find it out."
Disc 4 is live cuts, the first ten readily available from albums including The Newport Folk Festival 1960, ' 62's Live At Sugar Hill, '63's Live At Newport, and '72's Live at Soledad Prison. But the last five are previously unreleased performances from a 1983 show in Berlin. The sound is great, Hooker's guitar crackling over Deacon Jones' burbling B-3 on "She's Gone."
"Listen yawl, I want you to hear me out," Hooker says, introducing "It Serves Me Right To Suffer." He's preaching hard here, depending on his band to build a strong framework to lean his message against. "These guys know how to play the blues," Hooker says after a particular funky B-3 run by Jones. But then, just to let you know who you're dealing with, he adds " if they didn't, I'd fire 'em on the spot!"
Guitarist Michael Osborne's stinging licks help propel "Boom Boom" along on a clanging, rail- rattling freight train boogie ride that keeps threatening to jump the tracks till Hooker slams on the brakes with his guttural a-how-how routine.
In '83, "High Heel Sneakers" wasn't the creaky chestnut its become from being cracked once too often by every blues band in the universe, but it still had some wear on it. Hooker and his crew ride hard on this version, Osborne lashing it unmercifully while the boogie king herds 'em into the corral shoutin' like a crusty drover with the end of the trail in sight.
George Thorogood may have adopted it, but Hooker still owns "One Bourbon One Scotch, One Beer." It just oozes out of him, projecting "nathcel born mellow" from his barstool as the tune careens along til closing time.
Disc 5, titled "Friends," is the guest star offerings. Take your pick – ain't a bad one in the bunch. Whether its turning Jimmie Vaughan loose for a mega dose of Texas twang on this '92 version of "Boom Boom," cruising mellowly along with Van on guitar and soulful vocals on '97's "Don't Look Back," or "You Shook Me," a cut from 93's Blues Summit with a dream team of B.B. King, Kim Wilson, Robert Cray, and Roy Rogers shaking and slinging licks alongside John Lee, it's all first-rate.
https://www.youtube.com/watch?v=BmEkRuODBpA
A 56-page book houses the collection, with as full disclosure as was humanly possible on each track. This year would have been Hooker's 100th birthday, celebrated by this release along with the "John Lee Hooker: King Of The Boogie" exhibit that debuted Aug. 22 at Mississippi's GRAMMY Museum and features Hooker's performance outfits, guitars, photos, awards, and music. The exhibit runs in Mississippi through February 2018, then moves to the GRAMMY Museum in L.A.