Album Review
John Mayall Still Cares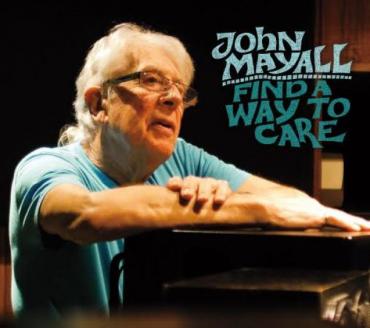 At 81, John Mayall still sounds as vibrant and powerful as ever. His latest, Find A Way To Care, utilizes all the members of Mayall's road band, who have backed him for the last seven years. Half covers, half originals, it's a powerful presentation from a venerated elder statesman with plenty of zing left in his arsenal.

"Mother in Law Blues" has been covered by a passel of blues royalty including Little Junior Parker '56 version, Ike and Tina Turner's '64 take as "Rooster,"Son Seals in '73, and the Nighthawks and Johnny Winter in 1980. Mayall doesn't cup his harp like Parker, but bends the bejeezus out of the reeds for a rawer sound. It's a great version, moving along at a more sedate pace than Winter's blazing take, but still rocking hard.
"Long Distance Call" is a tough one to cover because of the Muddy footprints all over it, but Mayall makes it his own with some classy piano work that takes it out of the juke joint and into a late nite lounge with a last set, just before dawn feel.
Lee Baker Jr. is the author of record on "I Want All My Money Back" but he gets more recognition under his stage name Lonnie Brooks. With the help of his burbling keyboard work and a little twangy guitar action from Rocky Athas, Mayall's version bounces a bit more and tracks more smoothly than Brooks' jagged edged juggernaut. Mayall's roaring on this one, his vocals sounding as strong as a man half his age.
He's just as strong on the originals. The Fess-flavored "Crazy Lady" tells the tale of a jealous, spiteful woman that Mayall has shed hisself of. But even though its about a dumping, it struts along as jauntily as a juiced- up second line street parade at Big Easy carnival time. And just in case you want to howl along on your instrument of choice, he's even thoughtful enough to list in the liner notes what key this song is in, as well as all the rest.
The title cut is an upbeat memoir punched up by a Muscle Shoals-soundalike soulful horn section. "Thinking bout my life today/ I appreciate the things I can do/ ain't got time fer feeling blue," Mayall says.
Mayall has said that his releases are an ongoing musical  diary of  his life.  "Everybody wins if we find a way to care," he sings on the last verse, a fitting journal entry for the feeling he's captured here, in spirit and in deed.
Grant Britt