Album Review
John Prine Makes a Relaxed and Wistful Return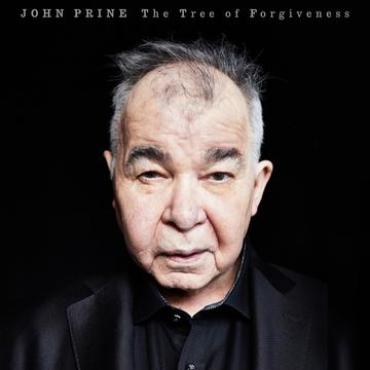 Thirteen years after one of the more stellar mid-to-late career runs in popular music – the trifecta of 1991's The Missing Years, 1995's Lost Dogs and Mixed Blessings, and 2005's Fair & Square – John Prine releases The Tree of Forgiveness, integrating his penchant for whimsicality, homespun wisdom, and heartrending insights, 10 songs delivered via alluring melodies and the award-winning singer-songwriter's unmistakable voice.
On the opening track, "Knocking on Your Screen Door," Prine's vocals are resonant, well-supported, and well-placed (kudos to the accompanying instrumentalists and producer par excellence Dave Cobb). The second track, "I Have Met My Love Today," benefits from Brandi Carlile's harmonies, a vocal confluence that will remind listeners of high points from Prine's 2016 "duets album," For Better, or Worse. While tracks one and two of The Tree of Forgiveness don't break new ground for Prine, they affirm him as a tunesmith who deftly blends colloquialisms with poetic decrees, transforming the quaint or cliché into the sublime.
"Summer's End," released as a single in February, is the centerpiece of the album. Much as "Not Dark Yet," from 1997's Time Out of Mind, epitomizes Dylan's moody introspection; and "It Seemed the Better Way," from 2016's You Want It Darker, encapsulates Leonard Cohen's lifelong fascination with mortality, "Summer's End" exemplifies the way in which Prine has, throughout his career, strived to balance an attunement to the inevitability of suffering with faith in the possibility of transcendent joy. "Well, you never know how far from home you're feeling / Until you've watched the shadows cross the ceiling / Well, I don't know but I can see it snowing / In your car the windows are wide open," Prine sings, evoking ambivalent emotions with complex references to such motifs as travel, loneliness, death, youth, and freedom.
On "Caravan of Fools," Prine offers, "Like the wings of a dove / The waiter's white glove / Seems to shimmer by the light of the pool / Some dull blinding winter / When you can't help but lose / You're running with the caravan of fools," his lyrics denser than usual, more mysterious, bordering on surrealistic. "The lonesome friends of science say / The world will end most any day / Well, if it does then that's OK / 'Cause I don't live here anyway," Prine declares on "The Lonesome Friends of Science," suggesting that while we're inarguably impacted by social and global (including environmental) issues, each of us ultimately exists in an existential and logistic microcosm, navigating the particulars of "my wife, my dog, my kids and me."
"Boundless Love" strikes me as one of the more unornamented paeans to love in Prine's oeuvre. Presumably he's extolling romantic love, though he could just as easily be expressing gratitude for what he experiences as divine love. The closing song, "When I Get to Heaven," opens with a speaking part, Prine then announcing (that once he gets to heaven), "as God is my witness / I'm getting back into show business / I'm gonna open up a nightclub called 'The Tree of Forgiveness' / And forgive everybody / Ever done me any harm." Employing a melody and tone that remind me of "Your Flag Decal …" or "Illegal Smile" from his 1971 debut, Prine affirms the redemptive power of forgiveness, avowing acceptance of the world and life as they are. To again reference Dylan and Cohen: While Dylan's version of Zen is associated with a Calvinistic view of human nature and sense of justice, and Cohen's with the Buddhist notion of egoic inconsequence, Prine's is more about a paradoxical ebullience. He bemoans and lampoons the misguided world and the machinations of powermongers, all the while sustaining a self-deprecating humor. The song ends on a rollicking note, Prine proclaiming, "Yeah this old man is going to town," a mischievous (and perhaps inadvertent) allusion to "This Old Man," the 19th century British children's song.
What's most striking about The Tree of Forgiveness is how a distinct effortlessness pervades the project, as if Prine is unprecedentedly relaxed – focused but not driven by any particular sense of urgency. This flexible vibe seems to have been adopted by Prine's band as well, including guest musicians Jason Isbell, Amanda Shires, Dan Auerbach, and Carlile. Prine's ambition may not be as ostensible on this project as on other releases; however, his process occurs as eminently organic and his presence as refreshingly humble. While this album doesn't crack his top tier (as I see it, the 1971 debut and 1972 follow-up, Diamonds in the Rough, and the aforesaid releases from 1991, 1995, and 2005), it features a variety of memorable moments and is engaging throughout – a noteworthy iteration from one of Americana's living masters.