Album Review
Jon Cleary Blows Up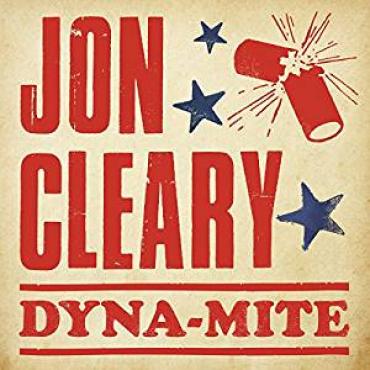 Jon Cleary sounds like New Orleans. He's was born across the water a ways, but he walks the walk and talks the talk of the natives. Although he calls Cranbrook, Kent, home, Cleary has been working on his New Orleans musical persona since childhood, studying James Booker, Tuts Washington, and majoring in Fess. Cleary literally lived in the Maple Leaf Bar when he emigrated to New Orleans in 1980, painting the walls of the club to earn his keep. When Booker didn't show for a gig, Cleary got his shot, and word of his piano skills got him gigs with legends like Earl King, Jesse Hill, Johnny Adams, and Dr. John.
Cleary was Bonnie Raitt's keyboardist for a decade before founding the Absolute Monster Gentlemen in 2009, later touring with a stripped-down bunch, the Philty Phew. Now Cleary performs mostly as a solo artist, and can be found most every Tuesday in his adopted hometown working out on Ella, a hundred-year-old upright piano in the Chickie Wah Wah bar.
The title cut kicks off with a Fess-inspired carnival strut, Cleary pounding the keys backed by a horny brassy choir, drummer Jamison Ross setting a brisk marching tempo saturated with second line funk, Cleary overlaying a soulful Stevie Winwood vocal on top with Meters guitarist Leo Nocentelli sharing lead guitar duties with Andrew Block, filling the spaces in between with soulful curlicues. 
Cleary created most of the album in what he calls his big old funky hardware store studio in the Ninth Ward, walls decorated with posters from the visits of past gospel and R&B kings and queens. As for inspiration, he says that sitting 30 yards from the Mississippi River, where it all started, lets the good stuff soak into your pores and ooze back out again.
"Hit Quit Git Split" has funk juice squirtin' out of it like a squoz funkberry, Cleary's B-3 burbling underneath a nasty bass pulse from Calvin Turner. This thing just drools funk from start to finish.
"Unputdownable" turns down the intensity a bit, elevating the hip factor, vacillating between between Earth, Wind, and Fire and Mose Allison.
"Big Greasy" sounds like a '70s -era Wailers track, stoney, laid back ska, a tribute to the city that forgot to care, not sleazy, but the big greasy, home of poboy sammtiches, brass bands flanked by hi-steppin', Second Line struttin' hanky wavers, and Mardi Gras Indians.
"Frenchman Street Blues" is the most mellow, an after-hours rendered on a tinkly old upright you can picture scarred with cigarette burns and ringed with long abandoned drinks.
"Best Ain't Good Enough" is newly minted swamp pop, Cleary embracing the '50s-era musical culture that produced golden oldies like Cookie and the Cupcakes "Mathilda" or Toussaint McCall's "Nothing Takes The Place Of You."
"21st Century Gypsy Singing Lover Man" is the only cut not written by Cleary. It's a Taj Mahal composition, laid-back jazzy funk that glides instead of struttin', a mellow Mahal impersonation by Cleary, crooning a wee hours lullaby.
Cleary embodies the heart and soul of the Crescent City, keeping the sound and the fury of its legendary piano pounders alive and kicking.