Album Review
Jon Cleary's Solo Piano Live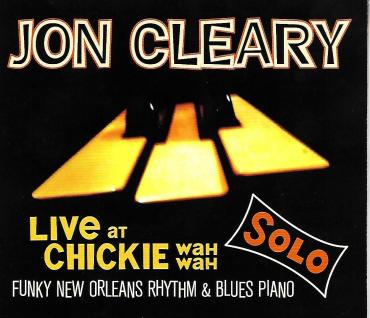 Jon Cleary is the funkiest Englishman you've ever heard. Emigrating from his hometown of Cranbrook, Kent, in 1980, Cleary became the embodiment of the New Orleans R&B pianists he'd been soaking up since childhood. Taking up a residence as a painter in New Orleans' famed Maple Leaf bar, Cleary literally painted the inside of the club while drinking in all the keyboard greats who played the club, like Tuts Washington, James Booker, and especially Professor Longhair. A no-show by Booker got Cleary his first gig there, and his prowess earned him sideman gigs with Earl "Trick Bag" King, Jessie "Ooh Poo Pah Doo" Hill, and the tan canary, Johnny Adams.
Cleary spent a decade with Bonnie Raitt before going out on his own in 2009, leading the Absolute Monster Gentlemen and later touring with a stripped-down bunch, the Philty Phew, to promote 2012's Occapela, a collection of Allen Toussaint covers he denied was a tribute, saying he was only "having fun" with Toussaint's work.
But for this outing, his only accompaniment is Ella, a hundred-year-old piano that lives in New Orleans' Chickie Wah Wah bar, where Cleary has been holding court on Tuesday nights for years.
Cleary starts out rattling hard. "You wrecked my heart/ tore that sucker in two" he moans over a Fess-style carnival jangle that has Ella shakin' with delight on his own composition, "Po Boy Blues."
"Unnecessarily Mercenary" sounds like Dr. John-speak, and the body of work is Cleary channeling Dr. John interpreting Fess on some heavy-duty low-down fonk with the Professor's ghost sneaking in some of his signature licks on Cleary's original composition.
Jesse Hill's "Sweet Jelly Roll," while not having all of the frenetic energy of "Ooh Poo Pah Doo," still has enough of a rolling second line to work up a sweat on a umbrella-twirling, hanky-waving street parade.
Jesse Belvin's "Guess Who" came after Belvin had already penned "Earth Angel" and "Goodnight My Love." A love letter his wife wrote to him, 1959's "Guess Who" is almost swamp pop, but whatever you call it, it makes for some satisfying crooning in Cleary's hands.
"So Damn Good" sounds like Ray Charles with Jerry Lee Lewis climbing on his back while James Booker tries to knock both of 'em off the stool.
Cleary may not be from 'round these parts, but with the help of a hundred-year-old piano and a bone-deep understanding of Crescent City piano gods, he sure does fit in good.