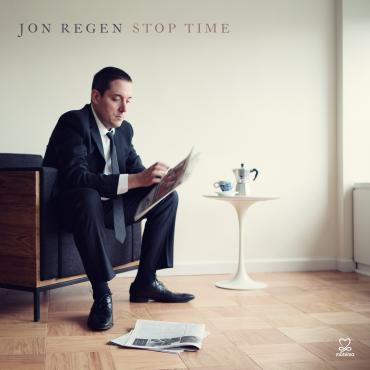 I've been listening to Stop Time, killer pianist Jon Regen's new CD, edge to edge for the past couple of days. There is nothing on this one, not a beat, not a breath,  that doesn't make me incredibly happy.
Where to begin?
First off, the production. I have to start with Regen's incredibly good decision-making, to have Mitchell Froom produce this, because this is probably the most perfectly produced album I've heard since Paul Simon's Graceland and Ani DiFranco's Dilate. That makes Stop Time the best-produced LP I've heard so far this century; actually, this millennium.
But of course, in order to perfectly marry music to production, Froom had to be given something to work with. And what Jon Regen offers here are ten individual perfect jewels. Each song is a pearl, complete unto itself, but somehow, between Regen and Froom, they've put it together to create a strand of pearls, each one perfectly placed to draw the ear without ever taking the listener away from the whole.
More good decisions show in the stellar musicians Regen chose for Stop Time. With Davey Faragher on bass and Pete Thomas on drums - Elvis Costello's The Imposters' rhythm section - Regen enlisted Val McCallum to lay down guitar on some of the tracks. Brilliant choices all.
So, you've got a legendary producer, a stable full of amazing players and, above all, a pianist who also happens to know how to put a song together. And boy howdy, does Regen know how to put a song together. Every tune on Stop Time is under four minutes, and every tune is a hopeful, elegant little moment to savour, remember, revisit, and savour all over again. Whether you take each song on its own or as that wonderful strand of pearls, this will stay with you in just the right way.
Since I'm about to turn 61 myself, the river this boat rides on resonates with me on every level. Regen is hopeful about aging, wry but never bitter, always present in his own lyrics. It starts out with "I Will Wait", and from that upbeat moment, the river carries you downstream, keeping you safe from rocks and shoals, keeping it easy. By the time you hit the halfway point - my own personal favourite, "Run To Me" - you're so comfortable on the journey that you're reaching for your slippers and closing your eyes to listen.
The remarkable thing is how perfectly Froom has taken Regen's offering and refined to exactly what it needed. Stop Time is neither stripped down nor overloaded; if there is nothing missing, there's not an extraneous tone or echo, either. This is a world class producer respecting the music he's been entrusted with, and doing that music proud.
Regen is a glorious pianist, a wonderful singer, and the kind of lyricist modern music could use a lot more of. Stop Time is a brilliant offering. I can't recommend it highly enough.
Stop Time is available at itunes and Amazon.
For more information, check Jon Regen's website, http://www.jonregen.com/