Album Review
Joseph LeMay Strikes a Chord with Debut Album Seventeen Acres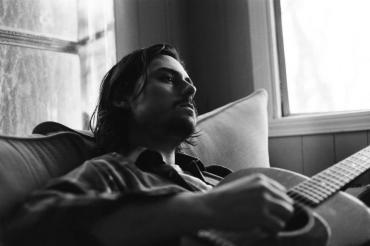 I can relate to 
Joseph LeMay
. If you haven't heard of him, well you're going to now. LeMay wouldn't get mentioned here if he was just a sandwich maker in Nashville, TN. Well, maybe depending on the type of sandwiches … but he needed a full time job to pay the bills in order to follow his passion as a singer/songwriter. I have not met Joseph LeMay, but his CD showed up in my mailbox one day. There are a few of these bright spots that arrive every week, but this one caught my attention as it came from 
Erin Scholze
 whose thread of connection is being a former Buckeye Alumni. Maybe it was the simplicity of a black and white design with an interesting photograph of a pile of dishes in the sink on the back cover that made me chuckle on the inside (I've seen that before) which raised my curiosity. I have about a half hour commute from my day job, so this is good time to throw a CD into the changer and give it a test drive on the ride home. What I heard was just …  
Ever since he was a young boy, Joseph LeMay knew he wanted to perform. The kid made the hometown State Gazette newspaper at age fourteen from winning a couple of national talent contests. He left Tennessee to find fame and fortune after high school in New York City, but a chance meeting with Charlie Peacock led him to Nashville. Along with getting a degree in Music Business / Studio Production at Belmont University, LeMay spent hours at Peacock's Art House studio watching acts like The Civil Wars roll in to further enhance the desire to find his calling as a singer/songwriter. Something needed to change, so the twenty-four years young Joseph and his new bride Molly headed west back home to Dyersburg where a plot of family inherited land and an old abandoned 400 sq ft single wide trailer awaited them. "Writing this record, I was constantly alone and in a period of self-doubt", says LeMay. "I was worried I wouldn't measure up as a new husband and as a songwriter." He worked out eleven beautiful tracks for his debut record Seventeen Acres which was named after the property he dwelled on.

The self-produced release was recorded by Chad Wahlbrink at the farm with a slew of friends helping out including Noah Denney on bass and percussion, Juan Solorzano on electric guitar, and Caleb Hickman playing keyboards, lap steel, and banjo. Eleonore Dening adds violin, Austin Hoke plays cello, and Molly Pardon provides gorgeous harmonies to LeMay's lead vocals and acoustic guitar. The only track with shared songwriting credits is the ballad "Fruit of the Vine" which was co-written with Denney and Ben Jones who is part of a folk act called Humming House and played upright bass on the track "Molly My Girl".
… amazing.  The first song has to be an attention grabber and the title track is a beautiful love song.  It flows into the radio friendly "You Still Do It" that highlights Solorzano and the rest of the players.  "Crazy Woman" is a country blues number and "Warrant For My Worry" has a nice A Capella opening.  The pick of the litter could be the broken hearted confessional "Call It Quits" where LeMay sings "An open heart's an empty room/ If you never let it heal, it's always gonna be a wound/ Now the hardest part/  It ain't knowin' how to start/ But baby, knowing when to call it quits.  After taking that one in, "Nothing You Can Do" is an electric single discussing depression that comes to a highway crashing jam band end.  The writer laments in "Possumhaw" about life, changes and healing and bangs out an Americana toe-tapper dedicated to his lovely bride with "Molly My Girl".  Hickman shines on lap steel within the music of "Redwing" and the gorgeous closing track "Just So" shows off LeMay's vocal range with Parden layering harmonies underneath. 
I heard several influences in LeMay's voice and music, but I always find it unfair to peg a young phenom as the next _____.  He has worked hard to get to this point in his career and deserves his own spotlight.  So take Seventeen Acres for a drive and I'm sure you'll come to the same conclusion …. this is one fine debut record.       
Photos by Juan Solorzano