Album Review
K Phillips Delivers Imaginative and Insightful Storytelling on Dirty Wonder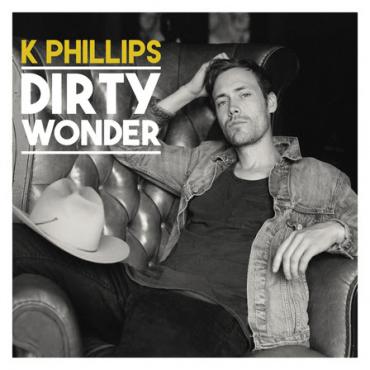 A breakup record that's based on experience, observation, and imagination Nashville-based, Texas-born K Phillips released his latest full-length, Dirty Wonder, on March 10th. Produced by Band of Heathens' Gordy Quist, the ten-track collection is replete with detailed, literate stories, clever allusions, and well-drawn characters that are further distinguished by pedal steel, fuzzy guitars, and juke-joint keys that lend an overall bluesy feel to the project.

Dirty Wonder begins with "Had Enough" is a bittersweet tune accented by a gentle piano and female harmonies that pinpoints the moment when you realize you're with someone who might not be what you need and resolve to move on, "Everyone's got demons/I must slay my own/I never thought I would bring 'em home" and continues with stories told creatively, capturing universally experienced themes in unique lights. Featuring vocal assist from Adam Duritz (Counting Crows), the roots-based "Hadrian" name checks historical characters as references for a relationship on the brink of dissolution. "History repeats history and none of it did save them, and none of it will save me…Come on honey, show me a spark, aw this is the easy part."; "Rom Com" channels the romantic comedy - complete with voice over like opening "They say a man chases a woman til he's caught…..Let that sink in" – and ethereal, romantic harmonies in a precisely told story of a relationship from a delightful storybook meeting to the whole thing going awry; and "18 Year Old Girls" adds a bit of humor alongside a seedy melody in the tale of a younger woman and older man who soon realizes they have (spoiler alert!) nothing in common.

Phillips exposes a roguish side on the rollicking title track, a seductive look at the perils of temptation even when you're committed; goes retro-soul on the bluesy "Don't Wish Me Well" and reflects on life in the hard-hitting ballad "Coalburner," "I used to live like a locomotive travelling through them hills of gold spitting steam and running coal but nothing moves me anymore." The album is rounded out with the melodically buoyant "Round The World," the groovy send-off "Nobody Does It," and the mysteriously seductive  "Hock The Horses."

With Dirty Wonder, Phillps proves he's not just a songwriter, he's that rare artist (like his namesake) who is a true storyteller; whose well-crafted, insightful and imaginative tunes engage and resonate - and will undoubtedly stand the test of time.
Originally appeared in The Daily Country