Album Review
Kacy & Clayton Answer the Call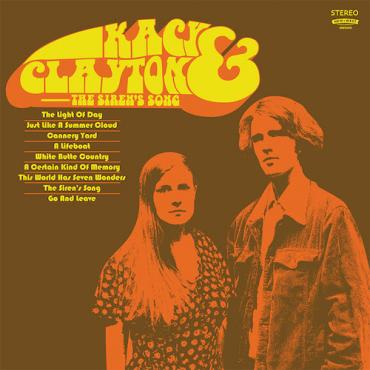 Like something out of a dreamy folktale, second cousins Kacy & Clayton seem to have been beamed down to us from a hazy summer sky. On the follow up to their 2015 release Strange Country, the duo have crafted one of the best albums of 2017 with The Siren's Song. Aided by the touch of Wilco's Jeff Tweedy, who produced the nine-song record, Kacy & Clayton have homed in on their sound – a dreamy twang, like Laurel Canyon but country. A heavenly blend of Clayton Linthicum's trippy guitar melodies with Kacy Anderson's haunting, filigree vocals are grounded with lyrics about youthful angst and the struggle to know yourself.
Kacy hypnotizes from the very first notes of opening track "The Light of Day", a tale of feminine frustration and suburban numbness. "Tell the people what they want to hear/And you'll always have the right thing to say," she sings in harmony with curling guitar notes. It's pleasant on the ears and gloomy in the brain. She conjures up images of Angel Olsen on "Just Like a Summer Cloud," a song of unrequited, complicated love. "Can we just make this simple/The way love ought to be/I want to be with you/If you want to be with me," she sings, her voice floating somewhere above us.
From the album cover art right down to the duo's sonic sensibilities, The Siren's Song feels like something from another time. "Cannery Yard" is a psych folk at its best – creepy and pastoral all at once. And the Clayton-led "White Butte Country" is old-timey without becoming hokey. "This World Has Seven Wonders" finds their heroine straddling the line between youth and adulthood – a restless mind that can never stop searching for something. "There's two kinds of people living in this galaxy/Everybody else and me," Kacy waxes. It's the age-old feeling that you don't have a place in this world and you can't fit in, and Kacy & Clayton capture it in a way that feels fresh and new. And if that will always ail us, what a relief to know we have music like this as a cure.