Album Review
Kaia Kater Drops 'Grenades' with Sonic Flourishes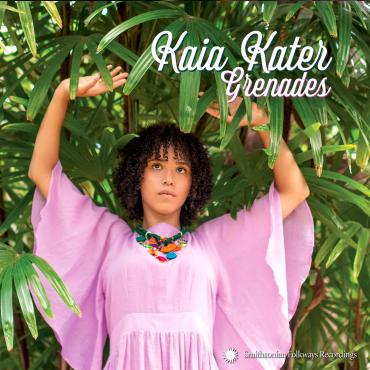 The sonic spaciousness of Kaia Kater's new album, Grenades, gives us room to breathe deeply and to accompany her on a musical journey through a moving and unforgettable soundscape. Grenades, of course, explode into hundreds of fragments of destruction, with the capacity to injure or kill those hit by the fragments. Thus, on the one hand, they are the symbols of the weapons that tore apart her father's Grenada in 1983. On the other hand, the explosive fragments of family and cultural history embed themselves in Kater's psyche, and she reflects on her life lived between Toronto and Grenada. In many respects, on Grenades Kater shares chapters of her life's story, including interludes of her father telling stories from his life on Grenada that serve as introductions to the three movements of Grenades.
In "Death of a Dream," Kater's father, Deno, narrates the indescribable power of the US military machine that invaded Grenada in 1983, describing the terrifying sounds of the warplanes and the firepower of the weapons. The album's title track floats over Christine Bougie's ethereal lap steel in a languorous rhythm that belies the visceral feelings of war: "Taste the metal on your tongue / march the dogs of war into the sun / heave and cry out! / The planes they duck and punch / melt the candy clouds and parchment lungs." By the end of the songs, the instruments and vocals circle each other and build to a choral wall of sound that celebrates the beauty of Grenada and affirms loudly the opposition to the invading forces. Kater delivers an a cappella version of "Hydrants," an evocative hymn to loss and love. "Everly" weaves a gorgeous, silky, and soulful melody through Bougie's shimmering lap steel swells. The final lines of the song's last verse — "I'll be free, free" — push with yearning against the billowing music. "Heavenly Track" channels, musically at least, Kacey Musgraves' "Kansas City Star," and Kater's urgent banjo rolls weave under and around "Canyonland," which opens mesmerizingly in the chorus; Bougie's Steely Dan-like guitar licks and Brad Kilpatrick's drum propel the chorus before it fades into a musical dreamscape.
Grenades celebrates beauty, love, and hope even amidst the rootlessness and distress of losing a land. Kater ingeniously provides the musical space in which we can dream, weep, laugh, and flourish.