Album Review
Keb Mo & Taj Mahal's Bluesy Fusion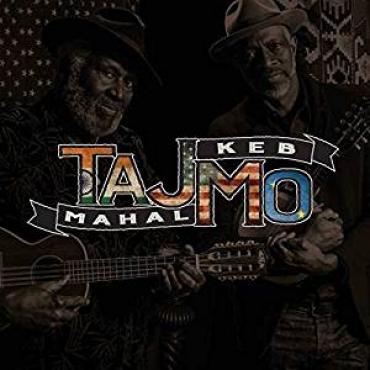 It's the ultimate blues creature, stitched together by a mad scientist, escaped from the lab to wreak havoc on the unsuspecting populace. Taj Mahal and Keb Mo as one entity is a frightening concept, capable of overpowering any mere mortal who dares to get in the way. But the creature is not the bigfoot stomper you might expect from such a union.
It's almost mellow, sweetened with a front end loader full of horns, sprinkled with Joe Walsh's string- pulling majesty, and titillated by the percussive magnetism of Sheila E. That's not to say that Taj's magnificent rumble is muzzled-it still shakes the bottomland,but just gets tenderized a bit by the surrounding arrangement.
Mo's and Mahal's voices are perfectly suited for one another, similar in timber and gruffness. At times it's hard to discern where one stops and the other begins unless you listen closely. While they can be just as raspy, Mo's vocal treatments don't sound quite as abrasive as the raw wound that Mahal inflicts on a song.
Most of the songs are big production numbers,blues stuffed with spicy brass filling. "Don't Leave Me Here"is a funky glide that sounds like one of Willie Mitchell's Hi Records backing tracks for Al Green, with a sprinkling of Chicago blues harp on top, courtesy of Billy Branch.
Mo wrote most of the tunes, but with Taj as your singing partner, whenever he drops in with his gravely vocalizations, he owns it, and you can argue about royalties later.
"She Knows How to Rock Me" is the closest thing to a classic Taj cut, funky, syncopated blues with a West Indian lilt, Mo adding delicious licks on resonator guitar as counterpoint to Taj's acoustic.
Mo's "All Around the World" is a strange-sounding offering from the Taj/Mo creature. It's a bit more lively and funk-laced, but still sounds like the '71 coke commercial "I'd Like To Teach The World To Sing."
"Shake Me In Your Arms" is the standout, vintage old-school soul fueled by Walsh's funky, rattly leads and Mo's electrifried response. Both Mo and Mahal turn in sanctified soul vocal performances, swapping the lead like a pair of Otises, Otis Redding and Otis Clay.
Any Taj fan has heard him do multiple versions of Sleepy John Estes' "Diving Duck Blues." Mo and Mahal first did it together at 2013s Crossroads Blues festival at Madison Square Garden.  But this is one is more whimsical, Mahal's rheumy rumination on hitting bottom with a bottle of whiskey and never coming up more of a retirement plan than a check out, giving the feeling that perhaps the old duck can rock away his remaining years on the front porch, bottle in hand. The Taj/Mo duet at the end sounds like Redd Foxx's Fred G. Sanford mellowed out by blending in a dollop of Robert Cray.
The Who may consider dropping "Squeeze Box" from their repertoire after hearing Taj/Mo give it a spin. Swampy, nasty, and evil, its been Cajun-inzed and hoodooed, the Taj/Mo creature wheezing the "in and-out-and-in-and-out" chorus as a bottom-feeding bayou dweller's sinister run-up to a bloody, toothy encounter.
Like-wise, John Mayer probably wouldn't want to follow the Taj/Mo cover of "Waiting For The World To Change." The duo are dripping so much crusty soul that they probably didn't need the smidgen of Bonnie Raitt's backing vocals in the mix- Mahal 's surreal scat solo eradicates anything that comes before or after- but a little Raitt never hurts.
This is how you create a masterpiece, layering it slowly and carefully. Two and a half years in the making, pieced together in Mo's home studio between tours, the record sounds like one special night when the planets were perfectly aligned and the artists and the sound man was too. But the real beauty of this creation is that this creature won't give you nightmares, and in this story, the night never ends.