Album Review
Kieran Kane and Rayna Gellert Forge a Third Voice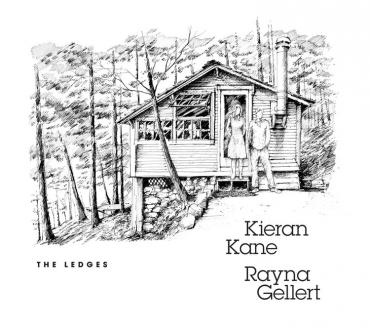 Kieran Kane contributed to and co-produced Rayna Gellert's excellent Workin's Too Hard, released last year. The Ledges (scheduled for release on 2/16), however, shows the two artists engaging in a more thorough collaboration, blending their respective songwriting, instrumental, and vocal skills, in this way forging a bona fide "third voice." The album opens with "Wouldn't Be the First Time," the listener immediately enrolled by an exemplary vocal harmony. Gellert's mournful violin adds evocative flourishes, the duo effusing a paradoxically humble confidence. "Cold Air," with its staccato rhythm, compelling melody, and precise harmonies, is a standout track, "cold air" symbolizing the distance between the singer and his lover, additionally operating as a metaphor for death. The tune is at once a love song and an austere ode to the ephemeral nature of life.
"I Don't Know Why" again features Kane and Gellert's exquisite harmonies, backed by Kane's stark but resonant acoustic guitar part. Lyrically, "Go Forth and Multiply," referencing the Genesis passage, is one of the more oddly intriguing pieces on the album. Given that numerous species are approaching or collapsing into extinction on a daily basis while the human population is swelling at an unsustainable rate, does this song represent a sardonic attempt to draw a listener's attention to our common plight? If not, the song occurs as somewhat anachronistic. In addition, K & G have perhaps missed an opportunity to offer a topical statement. Then again, they're musicians, not sociologists, scientists, or philosophers, and, musically speaking, "I Don't Know Why," like most of the tracks on this album, is impeccably rendered. That said, a more confrontational lyric on this particular tune might have felicitously expanded the album's scope.
"Miles" spotlights Gellert's wistful vocal and possible debt to Joni Mitchell. "Acres" is melodically reminiscent of John Prine circa The Missing Years. "You Don't Know Me" once again showcases the duo's penchant for shimmering harmonies and provides Gellert an opportunity to demonstrate a bluesy vocal. "One More Time" considers what the moments before death might be like – the longing to be fully alive "before I go." Lyrics accessibly address a universal experience, grief or anxiety in the face of imminent demise; meanwhile spry melodies, harmonies, and instrumental progressions evoke a counter ebullience.
On "I Wanna See Something New," Kane and Gellert alternate lead vocals, effecting a quasi-dialogue or oblique call-and-response. Especially notable is the choice to forego harmonies on this track, each voice remaining separate and distinct, the theme of the song (relational ennui, existential ennui) emphasized by the apparent "disconnect" between singers, Gellert's sultry violin part functioning like a sonic shroud or funereal drape. The album ends with a proficient version of "Take Your Burden to the Lord," written by Charles A. Tindley in 1916 and recorded by numerous artists over the years, including Blind Willie Johnson (1929) and The Blind Boys of Alabama (2013).
The Ledges centers primarily on Kane and Gellert's hummable melodies and crystalline harmonies – alternately uplifting and woeful, at times both – occasionally reminiscent of the vocal mixes achieved by Joy Williams and John Paul White from The Civil Wars. The album is lean, and upon re-listening, this or that song may occur as truncated. That said, each piece offers lyrical, instrumental, and vocal nuances that the casual listener may miss. A close listen affirms what most fans already know, that Kane and Gellert, individually and as a duo, practice an understated and unpretentious virtuosity. The Ledges, taken track by track and in its entirety, exudes a seductive magic.