Album Review
Ladies First: The Stringdusters Share the Spotlight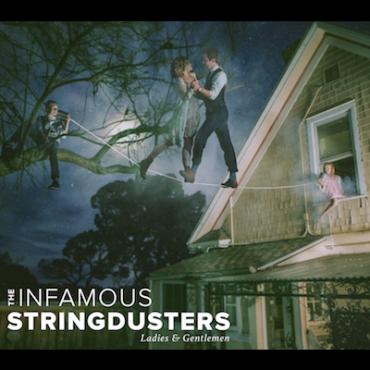 Given the fact that most bluegrass bands tend to tap tradition, it's generally uncommon to find them making waves in the mainstream. Thus, it's somewhat surprising to find the Infamous Stringdusters, a band known for their unpretentious picking, making a decided foray into more of a radio-ready approach.
Enlisting a number of marquee names to sing their songs -- Mary Chapin Carpenter, Lee Ann Womack, Claire Lynch, Joss Stone, Aoife O'Donovan, Sarah Jarosz, Sara Watkins, and Abigail Washburn among them -- the Stringdusters' new album, aptly dubbed Ladies & Gentlemen, is by far their most overt bid for broader acceptance yet. Here is a series of songs that mine a distinct attempt at easy listening appeal.
Given the fact that the majority of their guests are accustomed to success in the broader marketplace, it's almost inevitable that they'd lend that air of accessibility to the material on which they're featured. Lined up side by side, the distinction between the songs gives way to a seamless series of mostly mellow tunes. That doesn't mean the material is without merit. Far from it, in fact.
Womack's vocal on "I Believe," Jarosz's lead on "Won't Be Long," and Washburn's jaunty read of "Rock and Roll" strike an ideal balance between back porch banter and an easy, amiable sound capable of melting the hearts of whoever listens in. The same could be said of the contributions from Lynch, Osborne and, well, any of the others who lend their talents to these proceedings.
While it could be said the Stringdusters have opted for a bit of novelty, Ladies & Gentlemen doesn't come across as gimmicky or contrived. In fact, it ought to merit a sequel, especially after this fine introduction.