Album Review
Lana Del Rey's Lust for Life: Art and Persona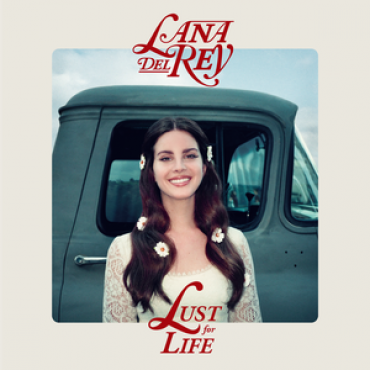 Lana Del Rey's fifth album, Lust for Life, finds the songwriter and chanteuse furthering the trajectory established via 2015's Honeymoon. While her well-crafted integration of the doomed innocent and hetaira archetypes (think Ophelia and Circe) continues to serve her, she's at times overly dependent on and limited by this signature persona. Lust for Life includes sublime moments that will in all likelihood hook new listeners and gratify diehard fans; however, Del Rey seems to have attained a creative plateau, an artistic bardo of sorts; and, in the absence of clear impulses regarding possible new directions, frequently gravitates towards the familiar, the tried-and-true.

Her opening track, "Love," is quintessential Del Rey, featuring gossamer textures and a tremulous vocal. "13 Beaches" affirms Del Rey as one of the primary stylists of her generation, a minimal but swirling background that Eno would appreciate, her vocal languorous, rising and falling amidst a slight echo:
It took thirteen beaches to find one empty
But finally it's mine
With dripping peaches
I'm camera ready
Almost all the time
"Beautiful People Beautiful Problems" adds range to the set, Del Rey and guest Stevie Nicks offering vocals that effortlessly blend. Ditto Del Rey's duet with Sean Lennon, the alternating vocals complementing each other unpretentiously. Track fourteen, "Heroin," is the album's manifesto and tour de force, with its sultry vocal, syrupy atmosphere, and vision of Baudelairean decadence juxtaposed with wistful uncertainty:
Topanga is hot tonight, the city by the bay
Has movie stars and liquor stores and soft decay
The rumbling from distant shores sends me to sleep
But the facts of life can sometimes make it hard to dream
And:
Topanga's hot today, Manson's in the air
And all my friends have come, 'cause they still feel him here
I want to leave, I'll probably stay another year
It's hard to leave when absolutely nothing's clear
While Del Rey has flirted with hip hop influences previously, particularly on 2012's Born to Die, she's more systematically mined the precedents of dream and ambient pop, including The Cure, The Cocteau Twins, and Mazzy Star, as well as work by contemporaries Beach House, The XX, and The National, crafting her own brand of diaristic melancholia. With Lust for Life, Del Rey embraces the genre more comprehensively. Guest appearances by The Weeknd, A$AP Rocky, and Playboi Carti are for the most part enrolling; at worst, these tracks collectively offer Del Rey an opportunity to assert her topicality and indebtedness to the 21st Century's dominant school—an effective move aesthetically and commercially. On "In My Feelings," she makes clear too that hip hop's characteristic braggadocio has impacted her pacing and vocabulary:
I'm smokin' while I'm runnin' on my treadmill
But I'm comin' up roses
Could it be that I fell for another loser?
I'm cryin' while I'm gunnin'
Makin' love while I'm makin' good money
Sobbin' in my cup of coffee
Because I fell for another loser
The poet Basho wrote, "Even when in Kyoto … I long for Kyoto." Del Rey's domain is indeed the chthonian world of Petrarchan longing, "summer" her correlative for the fleeting dreams of youth and love. Crystalline soundscapes, reverb-laden vocals, and noir-friendly lyrics support her Romantic vision: consciousness and the moment at hand are all that can be said to exist, though our quotidian burdens blind us to Reality, freedom passing us by.

While Lust for Life is a bit long at approximately seventy-two minutes, several tracks failing to fully translate, the project is utterly and unquestionably Del Rey: even at her least effective, she furthers her own evolving mythos. That is, there's no mistaking her voice, sound, and persona, whether authentic or default; that in itself is an accomplishment, though ironically one that may hamper her as she continues to explore the intersections of life and art, how identity can both facilitate and impede vital expression.