Album Review
Led Zeppelin: The Song Doesn't Quite Remain the Same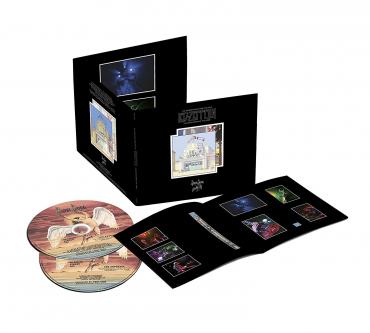 The Song Remains the Same—an album that captures Led Zeppelin in performance at New York's Madison Square Garden in July of 1973—sparked justifiable criticism upon its release in 1976. Billed as the soundtrack to the film that shared its name, the LP featured a muddy mix and, in some cases, performances that differed from and were inferior to the ones in the movie. In 2007, however, the group delivered a version of the album that remedied most of the first edition's shortcomings: its remastered sound represented a big improvement, and it added a half dozen songs that were in the film but not in the original LP.
Now as the final chapter in a series of Led Zeppelin reissues that began in 2014, the album has been released yet again in various configurations. Casual fans and those without deep pockets can opt for a two-CD set that contains a new remaster of all the recordings that the 2007 version incorporated. Other options (which I've not had an opportunity to review) include an edition on four audiophile vinyl LPs; a digital download; a Blu-ray with DTS-HD Master surround and stereo mixes of the album plus videos of four songs not featured in the film: "Celebration Day," "Over the Hills and Far Away," "Misty Mountain Hop," and "The Ocean." There's also a "super deluxe" box set that offers nearly everything but the kitchen sink: the two CDs; the four LPs; two DVDs that present the theatrical version of the film and the aforementioned four omitted numbers; a third DVD with the album in Dolby surround sound and PCM stereo plus a photo gallery; a replica of a Japanese program from 1977; and a print of the album cover. (Curiously, though, the "super deluxe" version is apparently not available with Blu-rays; you have to buy those separately.)
The material on the CDs draws on all of the five studio albums that the group had released by the time of the July 1973 concert. Their eponymous debut LP yields a nearly half-hour-long "Dazed and Confused" while Led Zeppelin II is represented by a propulsive "Heartbreaker"; "Moby Dick," the instrumental John Bonham showcase; and "Whole Lotta Love." (The latter includes a snippet from Willie Dixon's "Bring It on Home," which is appropriate, given that it was Dixon whose "You Need Love" apparently inspired the Led Zeppelin song.) From III come "Celebration Day" and the bluesy "Since I've Been Loving You" while the fourth LP (aka Untitled) contributes such well-known numbers as "Rock and Roll," "Black Dog," "Misty Mountain Top," and (yawn) "Stairway to Heaven." The group's then most-recent album, Houses of the Holy, gets the most attention, with readings of "Over the Hills and Far Away," "No Quarter," "The Rain Song," "The Ocean," and the film's title cut.
You can hear a huge difference in quality between the 1976 version of The Song Remains the Same and the 2007 remaster; the differences between the 2007 edition and the 2018 one are more subtle. If you have the previous reissue, in other words, you can probably skip the new one. But if you don't, here's a chance to experience a much better recording than the original release. Yes, typical of the period, there's some self-indulgent soloing here, and yes, How the West Was Won remains secure in its position as Led Zeppelin's best live album. That said, much of this is good indeed and some of it is rather spectacular. Vocalist Robert Plant is in fine form throughout, as are drummer Bonham and bassist John Paul Jones. And while some of Jimmy Page's best work will be found elsewhere, you don't have to look any further than this album to understand why he ranks among the best rock guitarists of his generation.
BRIEFLY NOTED
Jim Wyly, The Artisan. After about 40 years on the Texas music scene, the now 71-year-old Jim Wyly has finally gotten around to releasing a solo album. It's a stunner. Other artists will undoubtedly be tempted to cover some of the gems on this all-originals program but they'll be hard pressed to top the writer's versions, which benefit from his emotive vocals and terrific understated backup that includes Ray Bonneville on harmonica and Javier Chaparro on violin. Among the best tracks: "Suddenly I'm Single," the first-person tale of a man who arrives home to find new locks on the door and his possessions scattered on the lawn; the title cut, about creative people; and "Please Nessie," a mournful vignette about a woman who apparently drowned herself. Chuck Hawthorne, another late-blooming Texas musician whose own excellent debut came out in 2015, did a terrific job of producing the set.
Jamie Lin Wilson, Jumping Over Rocks. This second full-length album from Jamie Lin Wilson combines her gorgeous soprano with country/rock backup that features guitar, piano, pedal steel, dobro, and more. The live-in-the-studio recording delivers nine likable Wilson originals (four penned with cowriters), plus a cover of Guy Clark's "Instant Coffee Blues." It all sounds very good but also a bit too reminiscent of other artists, especially Emmylou Harris. Wilson already stands tall as a performer but I suspect that to take her career to the next level, she needs to also find a way to stand apart.
Kenny "Blues Boss" Wayne, Inspired by the Blues. You don't have to read the liner notes to figure out that boogie-woogie piano player Kenny Wayne's heroes include Ray Charles and Fats Domino. Not only can you hear their influence throughout this album, but the program includes "Mr. Blueberry Hill," a tribute to Domino, and a live version of "Georgia on My Mind," one of the songs most associated with Charles. With the exception of that latter number, all of the material is by Wayne and it's all excellent. So is the instrumentation, which features such guest artists as guitarist Duke Robillard. Best cut: the infectious, trumpet-spiced "Jimmy and Johnny," which tells of a fight over a woman between two best friends.
The Jellyman's Daughter, Dead Reckoning. That an album this good required Kickstarter funding says something about the state of the music business. At any rate, the Jellyman's Daughter consists of Edinburgh, Scotland–based Emily Kelly and Graham Coe, both of whom play guitar and mandolin; and this moody, adventurous second album features their sublime harmonies and beautifully crafted original songs. Backup includes prominently featured banjo work by Jamie Francis and a full-blown string section: nine violins, four violas, three cellos, and a conductor. I'm reminded a bit of another UK-based male/female duo, Everything But the Girl, but Jellyman's Daughter leans more toward folk and less toward pop than that group.
________________________
Jeff Burger's website, byjeffburger.com, contains more than four decades' worth of music reviews and commentary. His books include the recently published Dylan on Dylan: Interviews and Encounters as well as Lennon on Lennon: Conversations with John Lennon, Leonard Cohen on Leonard Cohen: Interviews and Encounters, and Springsteen on Springsteen: Interviews, Speeches, and Encounters.