Album Review
"Legacy" is a Collection of Meaningful Pieces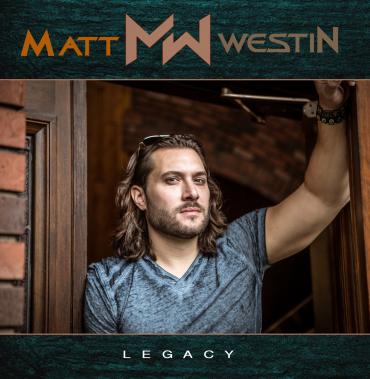 Matt Westin might be just delivering his debut album, but that doesn't mean he has no experience in music, Pittsburgh has heard his mellow voice in clubs and bars for over a decade, and it is truly heavenly that "Legacy", his first album, has been released for all of us to listen to. "Legacy" is an ode to family, love and memories, as well as a work dedicated to Westin's own father who passed away in 2006.
Westin worked on this album alongside Bryan Cole, a world-class Country music producer, sound engineer Doug Kasper, Mike Brignardello on the bass and Steve Hinson on the steel guitar, bringing Westin's feelings and talent to life masterfully.
There's always something so comforting about true country music, and Westin is country down to his blood. His roots shine through his lyrics and his laid-back, almost sassy attitude towards life. Very much like your classic country, but with a very distinct flair of the unapologetic feeling Westin brings along with him, "Legacy" is wholesome and well rounded, yet unique and modern.
"You leave me no choice" is a great opening to such a complete album, a romantic and sensual track with an edge and lyrics that never lose their charm or sound trashy. Westin's testament on his love for a woman in a heavy-sounding composition with many layers and just the right amount of aggressiveness. "Don't feel the Rain" follows up with mellow guitar and piano to continue the romance in a subtle manner before hopping to the upbeat "Good Time" to lighten the mood and get the party going for "Our Redneck of the Woods", a single and rightfully so, interesting and with a slight darkness to go with it, perhaps the most commercial and mainstream-sounding of them all, the careful composition and the addition of good riffs make it a world-class country song, and not only that, but also catchy and easy to sing along to, definitely the gem of the album.
"Right amount of Wrong" is just a tiny break between the hard hitting instrumentals for you to rest your ears and prepare to be taken back to the road with "Too Many Mondays" and "The Devil's Door", both bangers and powerful tracks with story-telling lyrics for Westin, who truly knows how to work with words and catch you with whatever he wants to tell you through music.
Continuing with "The Road that Never Was" we stumble upon a song with a beautiful choir and calm instrumentals, complex and carefully produced, with heartfelt lyrics and a beautiful and strong vocal performance. It shines on its own without needing any kick to it.
"Farm Town" begins and we have a lot more fun before this ride is over, fast-paced and exciting enough to make you get up and move along with it without you even notice it. Ragged vocals and subtle composition details added to it just to bring out the energy from it even more and make you ready for the end of it with "Southerly", again with choirs and gorgeous vocals. "Southerly" is a work of love from Westin towards everything that's familiar to him, his family and friends, what seems to inspire him the most.
"Legacy" is exactly what it says it is, a collection of meaningful pieces that come together to tell the story of a heartfelt man that has a lot to say and a lot to share, an immense amount of love for what surrounds him and his identity, a record that would make anyone proud.
You can order "Legacy" on Matt Westin's website https://www.mattwestin.com/
--Laura Perez