Album Review
Leon Russell's Glorious Farewell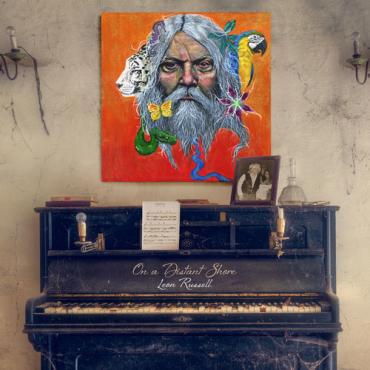 Leon Russell is gone, but his music lives on. His last release, On a Distant Shore, is a love letter from beyond the grave, a final fond farewell to loyal fans and a fitting endpiece to a long and eclectic body of work spanning nearly four decades.
The Oklahoma native toured with Ronnie Hawkins and Jerry Lee Lewis before landing session work in LA, becoming part of the Wrecking Crew, a loose-limbed cadre of session musicians including Glen Campbell and Earl Palmer who played on sessions backing everybody in rock from the Beach Boys to the Byrds. Russell also produced, arranged, and played on sessions with Frank Sinatra, Dylan, and the Stones.
Russell got some notoriety for arranging and playing guitar and piano on Delaney and Bonnie's 1969 release Accept No Substitute, but he came into his own in 1970 when he co-produced and arranged the Joe Cocker Mad Dogs & Englishmen double album as well as acting as bandleader and arranger for the tour. Russell's eponymous 1970 debut established him as a star with one of his biggest hits, "A Song For You."
Russell reprises that song as the final cut on Distant Shore, and it's as pretty as it was 4o years earlier. Russell's vocal is gloriously crusty, offsetting the high-tone horn and string-saturated upholstery that threatens to overwhelm this and some of the other cuts at times. But nothing can take away the simple beauty of the lyric "I love you in a place where there is no space and time."
Even though the title cut has Russell anticipating his own demise, his voice sounds better than he has in years. "I'm waiting here for my time to come," Russell proclaims in that world-weary, beat-up voice that's always sounded like he was heading for the last roundup at any second. But only Russell could take lyrics like "bad news is knocking at my door/Life doesn't matter anymore/ Sounds like a funeral for some person here/And I might be the one" and make them sound more like love song than a dirge, a going-home hymn surrounded by loving family, daughters Sugaree Noel Bridges and Coco Bridges providing vocal support on the doo-wop choruses.
"Love This Way" recalls Leon in his '70s heyday, the mad-dog rock-and-roll master of space and time rocking out: "lost inside the darkness and the howlin' wind,/ I don't like living and I'm afraid to die," punctuated by Russ Pahl's steel guitar sounding like the Allmans in Hawaii. Ironically, Russell originally envisioned this as a bluegrass number with banjo, but thankfully changed his mind, letting it morph into this classic Leon laid-back rocker groove.
In later years in concert, Russell started re-arranging his songs to the point of being nearly unrecognizable. But on the reprisals here of "Hummingbird" and "Masquerade" he's sweetened them a bit but left the melodies pretty much intact.
He breaks out the grit for the down-and-dirty blues "Black and Blue," featuring 17-year-old guitarist Ray Goren, mentored by Russell, who encouraged him to co-write with him as well. The kid chews up the melody with some vicious bow-wow box work behind Russell's gravelly gravitas.
Russell left a hole in our hearts when he left, but with a poultice like this to apply regularly to the affected area, the healing can begin.