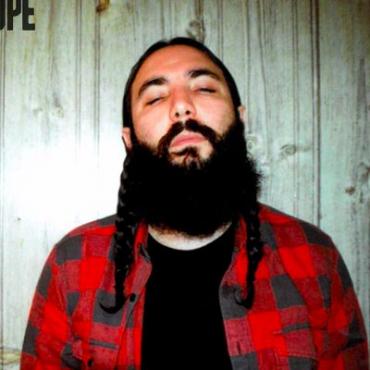 Work is the very aptly titled new album due for release on August 18. Apt because it reflects the hard effort Ron Pope has put into his music over a fifteen year career. Pope puts it well, describing his overnight success as having taken the past ten years to achieve. He has worked the ways music is distributed; ten albums, millions of streams/downloads and endless touring but he's no puppet of the biz. Throughout, Pope has maintained a fierce independence, so if not a household name, the reward of his effort is that he doesn't have to care what other people think or how his music is classified. Ron Pope's music is honest, it comes from the heart, and defies any glib categorisation. Work embodies that integrity with a collection of songs based on his own experiences involving people who have featured in his life and is perfectly recorded in a few takes to tape.
The opening track, 'Bad For Your Health' gets the album off to a rousing start. The horns add to the big feel, giving the song a punch the frat boy Pope sings about so richly deserves. Those horns are back in 'Let's Get Stoned', that slips and slides in a way reminiscent of Little Feat. Can't Stay Here' keeps up the pace, another song of growing up, this time with a hint of Tom Petty and some great slide licks. 
Then the tempo drops with the title track that describes the story of Pope's life. "Carhart jacket on at five thirty am, feeling like the ace of spades, fifteen years of work till the sun comes up, then off to school again". This goes back to when Pope worked on a loading dock before heading off to high school each day. Later on he had to decide whether to carry on working or make something of his music. Good decision, Ron. 'Work' is a great piece of reflection and the album's highlight. 
"Last" sounds more country, musing about life's choices with a wonderful chorus line, "I was not the first to love her and I will not be the last". We cannot dispute the title, 'Someday We're all Going to Die" but few can say, "pour me a drink, give me one song to sing, then I'll be on my way". 
'Dancing Days' is an honest reckoning about not being able to party quite so much now. Its opening makes you feel as hungover as Pope sounds but don't worry, those days "ain't done yet". This song was recorded in one take with some lovely trumpet from Charles Ray.
The rest of the album stays on the contemplative side . The final track 'Stick Around' is about doing just that after making a few changes including not sounding like my father.
Ron Pope's earthy sound and straightforward lyrics convey a sensitivity that lies behind much of this new album. We must hope Work pays here.