Album Review
Lindi Ortega Expands Her Horizons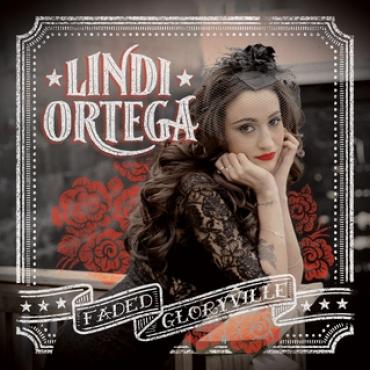 Canadian singer-songwriter Lindi Ortega released her fourth full-length album a few weeks back.  It's called Faded Gloryville (Grand Tour Records).
It's full of faded characters and lowly places - cheap motels, brothels and saloons replete with drinkers and broken souls who have seen better days.  Ortega was "inspired" by the Scott Cooper-helmed film Crazy Heart  featuring Jeff Bridges in the lead role and Ryan Bingham's music. Could a similar downhill music trajectory happen to her, she thought?
It's not likely.
Ortega's last album Tin Star (2013) earned a (Canadian) Juno nomination, full of passion and recounting stories of a struggling artist (she now lives in Nashville TN).  Her 2012 release Cigarettes & Truckstops was nominated for a Polaris Prize (Best Canadian Album).
The 'hired help' on Faded Gloryville certainly pack a punch and the new record is overflowing with collaborations and distinct stages.  Unusually, there were in fact three separate recording sessions, each with their own influence on the final product.
There's Nashville heavyweight player and producer (and member of the wonderful and quirky band Blackie & The Rodeo Kings) Colin Linden.  Add another session with one of the most sought-after producers around today Dave Cobb (Sturgill Simpson, Jason Isbell and Corb Lund) to the mix (no pun intended!).  Both men have worked with Ortega on previous projects and so were very familiar with her work.  The songs that have emanated from these sessions continue her link with Americana and alt. country.
The final session, though, was one that took her in a somewhat different direction, towards a more soulful texture, one that fits in with the Stax Memphis or Muscle Shoals catalogues.  John Paul White from The Civil Wars and Ben Tanner from the Alabama Shakes, co-produced three of the album's tracks in their studio in the deep south.
Lindi Ortega - Out On The Weekend Festival, Melbourne 2014 - photo Jim Jacob
Writing-wise, there are three songs penned by Ortega, six involving co-writes with her and one cover (the Bee Gees' classic "To Love Somebody").  With these separate sessions and different producers, it is always possible that the result would not be a seamless and cohesive final sounding product.  That's not the case here.  All the ingredients meld into an engaging and assured release.  Plus there's that beautiful, strong and resonant voice, which is thankfully left well out in front.
There's a lot of smarts and affection in the songs too.
"I Ain't That Girl", warns her would-be suitor that his clean-lines and money aren't enough: "Ain't gonna tell you any lies/I've got a thing for long-haired guys/You're too clean-cut with polished shoes/I like 'em rugged with tattoos".
In the title cut Ortega sings "There ain't no stars in Faded Gloryville/We've chased our dreams into the ground/If disillusion has some hope to kill/Here nobody wears a crown."
"Run Amuck", tells the story of an addict who learns the hard way that, "When you run with the Devil you burn everything you touch/Bridges and money and everyone you love."
The opening song "Ashes" speaks of finding redemption from the lower depths.
The cover of "The Love Somebody" breathes new life into the Bee Gees original tune and demonstrates what a fine song it is.
Faded Gloryville has a lot going for it, something for everyone and a glorious diversity of material and music presentation.  It's definitely a further sign of the growth of this talented lady.
Faded Gloryville Details
Songs / Writing Credits:
1. "Ashes" – Lindi Ortega / James Robertson
2. "Faded Gloryville" – Lindi Ortega
3 ."Tell It Like It Is" – Lindi Ortega
4. "Someday Soon" – Lindi Ortega / John Paul White
5. "To Love Somebody" – Barry and Robin Gibb
6. "When You Ain't Home" – Lindi Ortega / Brice Long
7. "Run Down Neighborhood" – Lindi Ortega / Bruce Wallace
8. "I Aint The Girl" – Lindi Ortega
9. "Run Amuck" – Lindi Ortega / Tofer Brown
10. "Half Moon" - Lindi Ortega / Trent Dabbs / Dan Brigham
Recording Sessions:
Colin Linden Session:
Songs: "Ashes", "Tell It Like It Is", "Faded Gloryville", "Half Moon"
Produced by Colin Linden
Recorded by Mike Stankiewicz at Sound Emporium, Nashville and
Colin Linden at Pinhead Recorders
Assisted by Zack Pancoast
Drums/Percussion-Bryan Owings
Bass- John Dymond
Organ- Ian Fitchuk
Guitars- Colin Linden
Drums/percussion on Faded Gloryville - Gary Craig
Thanks to Janice Powers, Casey Lutton, Danny Rowe, Juanita Copeland
Muscle Shoals Session:
Songs: "Someday Soon", "To Love Somebody",  "When You Ain't Home"
Produced By: Ben Tanner and John Paul White
Engineer and keys - Ben Tanner
Acoustic guitar and harmony vocals- John Paul White
Electric guitar - Jeremy Fetzer
Bass - David Hood
Drums and percussion - Jeremy Gibson
Trumpet - Rob Alley
Trombone - Chad Fisher
Cello - Caleb Elliott
Violin - Kimi Samson
Dave Cobb – Session:
Songs: "Run Amuck", "Rundown Neighborhood", "I Ain't The Girl"
Engineered and produced by Dave Cobb
Acoustic Guitar – Dave Cobb
Zachary Pancoast -Assistant engineer
Chris Powell- drums and percussion
Brian Allen -Bass
Jason cope - Electric Guitar
James Robertson – Electric Guitar
Recorded at sound emporium Nashville
***