Album Review
Lindsay Lou & The Flatbellys - Ionia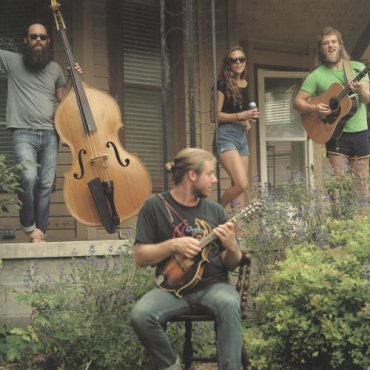 It might not be a trend as yet but recently we have noticed bands that are using the basic tools of bluegrass and adding their own particular twist. Examples include Fish & Bird, Front Country and Run Boy Run where elements of jazz and chamber music are more prominent than backwoods Appalachian mountain music. fit into this slot neatly with their all acoustic set up (guitar, mandolin, Dobro, banjo, double bass, cajon, harmonica and hambone) rarely breaking out at breakneck speed. Instead there's a delicacy in the sounds they weave and although they sound nothing like them one is reminded of the way The Pentangle shook up sixties folk music when they used fused jazz and instrumental prowess to create their powerful hybrid. Of course one can argue that some bluegrass players such as David Grisman have been doing this for years but after several years of back to basics shitkicking roots music bands (and nowt wrong with that of course) the pendulum seems to swinging in the other direction. Anyway, the other striking point here is Lindsay Lou herself. With a voice that can accommodate folk, blues and jazz she is the focal point of the album. Her phrasing is elastic enough to navigate the twists and turns that some of the songs undertake although she never veers into vocalese. In addition when the band turn their attention to a more traditional sounding song such as on the excellent River Jordan she carries it off as if she were a born and raised Baptist soul singer.
The album itself was recorded in a four day session in the dining room of a clapboard house in the town of Ionia, Michigan with the band grouped around a couple of microphones. Although each member of the band has a primary instrument they swapped around a fair bit during the sessions with the end result that one is never too sure who's playing what without recourse to the liner notes, testament to the instrumental abilities of Joshua Rilko, Mark Lavengood and PJ George III. They kick off with Hot Hands, a perky little confection which has an occasional similarity to Nick Lowe's I Love The Sound Of breaking Glass. It's an attractive piece but lacks the depth the band prove themselves capable of later on. There's much more muscle on the brooding Everything Changed with the band charged up, the guitars vibrant and driving the song along with a fine mandolin solo towards the end. The Fix returns to the poppier sensibilities of the opening song but is less twee with some intricate vocal harmonies and from here on in the band settle down to weightier concerns. Old Song features mandolin and banjo over percussive acoustic guitar and is a fine example of their ensemble playing and harmony singing with a wistfulness in the words and in the playing which is as sweet as a mountain stream. Sometimes is a bluesy number with harmonica to the fore but the band adorn the song with pizzicato fiddle and double bass along with some snappy brushwork on the cajon. Sung by Mark Lavengood, Sometimes ends up sounding as if a classical string quartet were playing something from The Band's Big Pink. There's adventure too in the odd rhythms of House Together where they start and stop, change their time signature and doodle their way to the end of the song. Over this challenging backdrop Lindsay Lou moves from wide eyed home improver to imperious vocal dominatrix.
The album sails to its conclusion with a mighty punch beginning with the aforementioned River Jordan, a gorgeous song that is the most traditional sounding here. Here Between is another string driven chamber pop piece that flows wonderfully and the title tune, Ionia is a masterful nod to tradition, American and Celtic, with flatfoot stomping over a gorgeous melody that seems as old as the hills.
Ionia is available now and the band have a short tour of Scottish dates in May following an appearance at The Shetland Folk Festival. Dates are here
This is an edited version of an article originally posted on Blabber'nSmoke