Album Review
Living with Grief on Old Sea Brigade's "Ode to a Friend"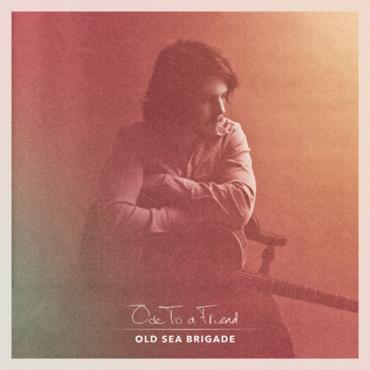 Grief is a powerful muse.
It guided Neil Young's hand when he penned the haunting rocker "Tonight's the Night." It's core to the continued resonance of the hymn "Will the Circle Be Unbroken." Grief drove rap duo Run the Jewels to record the complex and vulnerable "Thursday in the Danger Room," and it led Jason Isbell to deliver the heartbreaking "Elephant." Grief is one of our most basic and deep-set emotions, and as long as humans have been mortal it has run like a dark thread through our art. In the Epic of Gilgamesh, one of the most ancient surviving human texts, it drove a powerful king on an insane and dangerous quest.
Grief inspired Ben Cramer, a Nashville-based artist who records and performs as Old Sea Brigade, on his new (and appropriately titled) Ode to a Friend. Eleven subdued indie-rock tracks envelop the listener, welcoming them into a shared sense of loss — and then of moving on in a world with a little less color in it. While Ode to a Friend may not command the sheer weight or power of the works mentioned above, it's certainly a comforting album in a similar vein.
The twin strengths of this album are its gorgeous production and Cramer's simple and straightforward lyrics. Consider "Stay Up," in which Cramer sings "I'll stay up late at night / just thinking about my day / nothing left to hide." These are easy enough to generalize to anyone's life, which contributes to Ode to a Friend's strength as a shared grief album. Producer Jeremy Griffith deserves substantial credit for the enveloping comfort of his melancholy textures.
This is an album with impressive touchstones, thanks to Griffith's production. At times, he nods to latter-day Bowie records like Heathen or Blackstar. There are hints of U2 and of refined emo à la Death Cab for Cutie. Griffith's careful attention to soundscape (and welcome, tasteful use of programmed percussion) infers serious Beck records like Sea Change and Morning Phase. There's also a lot of Beck in Cramer's songwriting and vocal approach. "Straight Through the Sun" is the most Beck-evocative tune on Ode to a Friend, and it's as simultaneously, paradoxically upbeat and downtrodden as the best of Beck.
Another hallmark of this album is its cinematic melodrama, best exemplified by "Resistance." Post-rock guitar sparkle and vintage drum machines back a resigned Cramer on the gorgeous, dramatic swell of this song's chorus. Forgive the comparison, but on this song Old Sea Brigade achieves what Coldplay has been flailing toward throughout its entire career.
And then there's the grief. And the music written by someone who just lost a friend to suicide. "Hope" finds Cramer deeply disturbed by the duality of sleep and death. One moment he's having a routine domestic conversation ("So wake me up in five / I'll walk the dog, you stay inside") and the next he's wrecked by existential terror ("I wanna feel hope when I die / so I know what I left behind;" "I don't wanna feel alone when I sleep").
Honestly, there's not a lot of fault to be found on this album. It may lack the weight or greatness of the cuts mentioned at the start of this review, sure, but it's still a respectable approach to an emotion that has haunted humanity for millennia. Like a warm blanket you wrap around yourself on a winter evening, Ode to a Friend at least keeps the cold at bay for a little bit.
*      *      *      *      *      *      *      *      *      *      *      *
Your subscription helps keep independent roots music coverage alive! Subscribe to No Depression now and join a community of roots music fans from around the world.