Album Review
Living Low with Nick Moss and Dennis Gruenling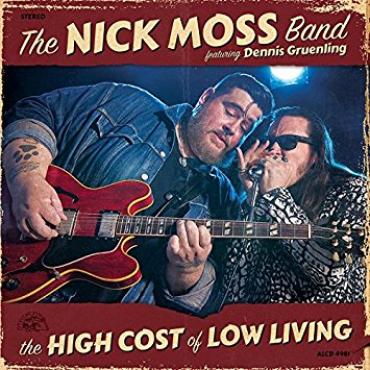 Chicago native Nick Moss and New Jersey's Dennis Gruenling have been teamed up for less than two years, but it sounds like they're joined at the hip. Gruenling had previously been touring with Doug Deming and the Jewel Tones, his Little Walter/James Cotton/Rod Piazza-influenced harp dueling with Deming's Charlie Christian/T-Bone Walker inspired guitar. It was fun to watch the two thrust and parry, Gruenling's back alley-Chicago attack meeting Deming's uptown jazz approach and somehow finding common ground or at least an uneasy truce that let both sides speak their piece.
Moss and Gruenling come from the same place musically, but there's still plenty of fireworks here, abetted by producer Kid Andersen at his Greaseland studio in San Jose. Moss comes at it hard, putting out muscular, hard-drving, traditional Chicago style blues. Gruenling is all over him, jabbing and slashing at every opening. But traditional in this case doesn't mean covers. Of the thirteen entries here, Moss wrote eight, Gruenling contributing two for an eccletic mix of jump blues, rockabilly, and down and dirty, deep-dish Chicago blues.
Moss comes out hard on "Crazy Mixed Up Baby," guitar clanking like tank treads, firing off machine gun bursts to obliterate anything in his path. But Gruenling is an accomplished street fighter, wating for his chance, slipping in low then ripping upward, slashing and thrusting to get his own space. Its a shuffle, snippets of "Fanny Mae" wafting in and out of the melody, but there's nothing laid back about this back alley throwdown.
"Get Right Before You Get Left" is big band jump blues Big Joe Turner would be comfortable conducting. But then things take a left turn, Gruenling jumping in with a flurry of James Cotton waah's to rough it up, Moss abrubtly changing the scenery again, ripping off a flurry of fiery rockabilly licks.
"No Sense" slithers along like Jimmy Reed slogging through the swamp leaving muddy footprints on the bank. Moss channels Elmore James on the title cut, his boiling guitar chastising a low rent baby big on intake but slow on output, Taylor Streiff's window rattling piano providing juke-joint accompaniment.
Gruenling wrote "Count On Me," a rollicking boogie-woogie once again aided by Streiff's Jerry Lee style key pounding underscored by Moss's rattly rockabilly licks,  buoyed by Gruenling's superharp wailing.
Gruenling blows out the reeds paying homage to Cotton on "Get Your Hands Out of My Pockets" from '66's Otis Spann's Chicago Blues, firing off a barrage of superharp bullets that keeps Moss ducking vocally and instrumentally.
Gruenling's other composition, "Lesson To Learn," features Gruenling slithering sinuously underneath a Bo Diddley beat that Moss attempts to slash apart briefly but Gruenling's Cottonmouth overides him.
It's a high quality debut with plenty of room for both to stretch out in later on.